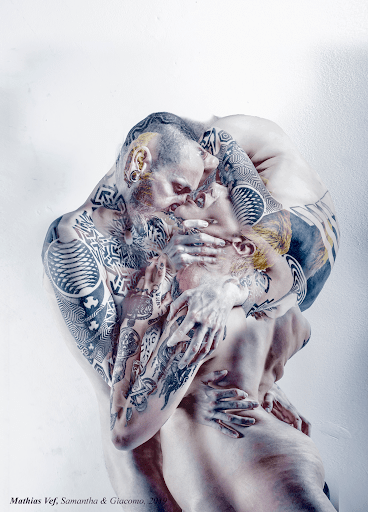 Artist: Mathias Vef
Title: Samantha & Giacomo
Material: Photo collage
Year: 2019
Dimension: 60cm x 90cm
Price: € 690 + MwSt 16%
---
Mathias Vef is fascinated by body and identity. He is drawn to exceptional bodies that are often an expression of an extraordinary identity. The most exciting to him are people who see their bodies as something which one can mold and create – where the body becomes part of the expressions of someone's mind. Essentially he is fascinated by people who see themselves and their bodies as moldable material, like hackers who hack their own body, their own form.
As an artist Vef uses this material which the models provide, and hacks it either through collages or with the chemical GHB. He likes the idea of hacking the mainstream, when borders to subculture are not clear anymore or it is ambiguous where body images come from.
GHB as a substance fits to that on several levels. As a drug it hacks a personality, dissolves it, in particular inhibitions. Movements change, self-perception becomes fragmentary. Used on prints it functions very similarly. Interesting as well is another, rather morbid parallel – as a drug GHB is very dangerous, an overdose can lead to death very quickly: a bit too much – and it is over. This is the same when used in painting, the pigments get erased, and if too much is used, you cannot conjure them back magically. Its destructive force becomes very apparent.
Mathias Vef lives and works in Berlin after having studied at the Royal College of Art in London.
Contact
Use the form below to get in touch with The Ballery if you have any questions or would like to have a private walkthrough with The Ballery's Director Simon Williams about this creation. The session can either be held at The Ballery's premises in Schöneberg, Berlin; or via online video conferencing.