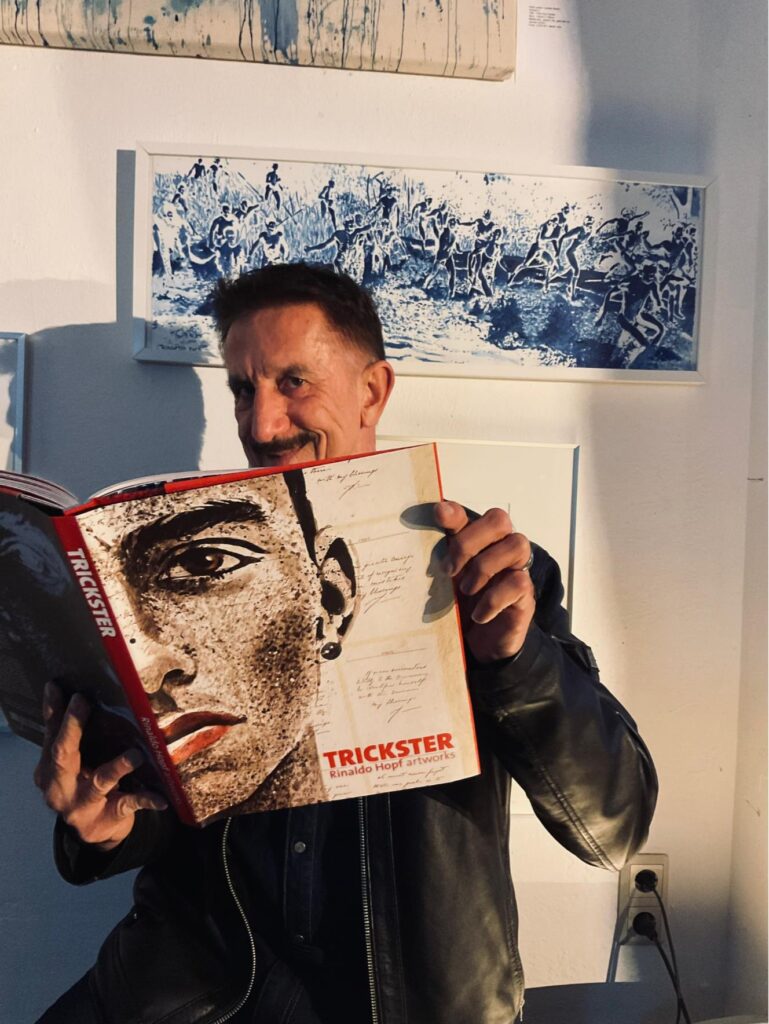 Rinaldo Hopf was born in Freiburg, West Germany on June 30, 1955.

He studied Art, Cultural Anthropology and Religious History in Freiburg, West Germany, San Francisco, California and Bremen, West Germany where he graduated (with honors).

Rinaldo worked as a Visual Artist in San Francisco, California and Paris, France (Atelier Dedalo Montali) and as an Art Therapist in Forensic Institutions in San Francisco and West Berlin.

He currently lives and works as a Visual Artist, Editor and Curator in Berlin, Casoli/Tuscany and Los Angeles.
SAVE THE DATE:
Solo retrospective exhibition 'Trickster' at The Ballery 29 September – 28 October 2023
Recent interview Rinaldo Hopf & Simon Williams

I am a big fan of your 1990 works which are painted on original pages of 'Die Kunst im Deutschen Reich'. I love that you keep on coming back to German history for inspiration. In a more recent large scale work, you portray Berlin Olympic sensation Jesse Owens painted on vintage 'Berliner Illustrierte Zeitung', from 1936. Please tell me about your affection for vintage German print matter.

I am fascinated by history, evolution and progress. I think it's important to have a deep knowledge of the past to understand the present and envision the future. In Germany, our historical heritage is very burdened, so I am keen on resolving some of the bad Karma. Knowing how it all ended, I am fascinated by the mix of propaganda, advertisement, politics and the depiction of ordinary daily life in these magazines from the 1930s. This is what my parents and grandparents saw and read. Of course I am generally interested in history, and love to work for instance also with vintage gay magazines from various countries, like the vintage American "Advocate" magazines that I used for my project commemorating the Stonewall Riots 1969 in New York.

Please tell me about your discovery of Rainer Werner Fassbinder. Where did it all begin for you?

I saw the Fassbinder films when they first came out in theaters and loved them. The same with the films by Andy Warhol and Pasolini. The three of them were my heroes and influenced my life and thinking enormously. I am very glad to have grown up in the wild and experimental seventies when everything was new and fresh: the music, the fashion, the various liberation movements.
Recently you set up a new home in Italy. I am looking forward to see how your future work will be inspired by your adventures there. When we met you had been spending many years at home in Auroville India. Do you miss being in Auroville?
Yes, I miss Auroville and crazy India. As the whole world is going through troubled times, the visionary international city of Auroville is also going through a very tough phase right now. But I hope to go there again soon. But for now I am really excited about the new adventures in Tuscany. It's an area that has a very rich artistic tradition and I am learning the fresco technique right now. Since I like to do large scale paintings this seems like a very fitting technique. Right now I am preparing an homage to the centenary of the great Italian poet and filmmaker, Pier Paolo Pasolini – right there in the artist village of Casoli where we now have our new home.

If you could swap shoes with someone for one day, who would it be?

David Hockney! I think he ist he most prolific and daring painter and artist of our time, even now at 84! I have no idea how he can still do one huge painting after another, and make even more inventions.
---