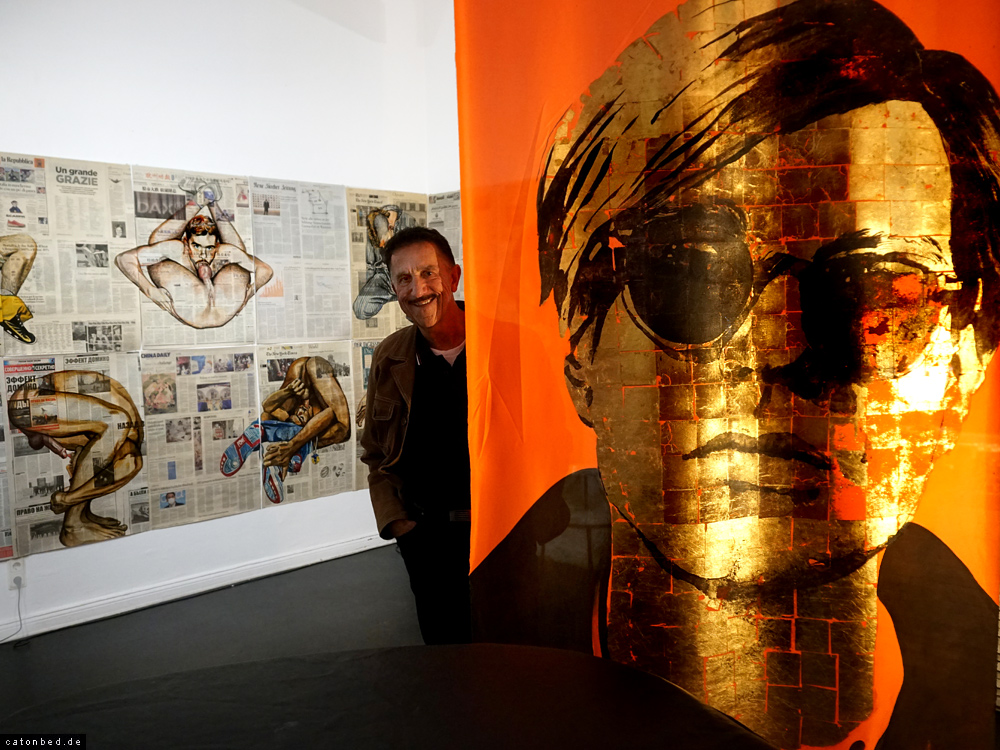 Rinaldo Hopf was born in Freiburg, West Germany on June 30, 1955.

He studied Art, Cultural Anthropology and Religious History in Freiburg, West Germany, San Francisco, California and Bremen, West Germany where he graduated (with honors).

Rinaldo worked as a Visual Artist in San Francisco, California and Paris, France (Atelier Dedalo Montali) and as an Art Therapist in Forensic Institutions in San Francisco and West Berlin.

He currently lives and works as a Visual Artist, Editor and Curator in Berlin, Casoli/Tuscany and Los Angeles.
---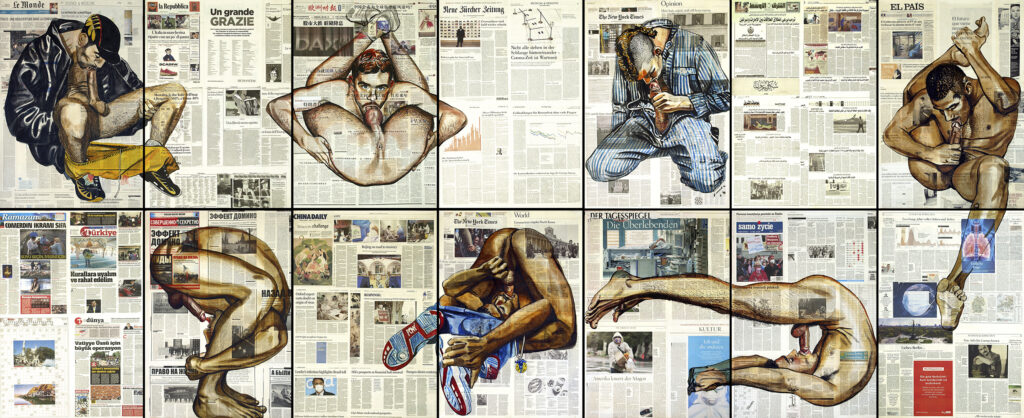 ---
Date of birth: June 30, 1955
Place of birth: Freiburg West Germany
Where did you grow up? Freiburg West Germany
Interview 2023

Where do you live now? Berlin, Bergkirchen/Westfalia, Casoli/Tuscany, LA

For those who don't know you, please can you give a short introduction into your artistic career?
I studied Painting, Cultural Anthropology and Religious Studies in Freiburg and Bremen, West Germany and in San Francisco, California. For several years I worked as an art therapist in forensic institutions in San Francisco and Berlin. Currently I am based in Berlin, Los Angeles and Tuscany as a painter, photographer, editor and curator. I am married to Frank Tepel. My sister is the artist Marianne Hopf.
Grants & Residencies in Civitella d'Agliano, Italy 1988 and 1989; Istanbul 1992 and 1994; New York 1995; Berlin 1995 and 2006; Tom of Finland Foundation, Los Angeles 2017, 2018, 2020 and 2022.
I have had exhibitions at international institutions including AllTogether Clubhouse, New York 2023, and AllTogether – Collection of Tom of Finland Foundation at the 59th Venice Biennial 2022 and The Community, Paris 2022; Queer Biennial III and IV, Los Angeles 2018 and 2022; Harvey Milk Photography Center, San Francisco (2020); NGBK, Berlin (1988,and 2013); Akademie der Künste, Berlin (1997); Schwules Museum, Berlin (1993 and 2013); PS1 Museum, New York (1994); Atatürk Cultural Center, Istanbul (1994); and Deutsch Museum, Lausanne (1992).

Works of mine are part of the collections of Elton John, London; Tom of Finland Foundation, Los Angeles; Neuer Berliner Kunstverein; Schwules Museum, Berlin; Deutsch Museum, Lausanne; Leslie – Lohman Museum, New York.

Since 2005 I am the co-editor of the annual anthology My Gay Eye. #20 will out in October 2023. Konkursbuch Verlag Claudia Gehrke

Besides German I speak French, Italian, and English.
My lifelong motto is ART = LOVE

Looking back over your career what have been the highs and lows?

I started working as a full time artist on my 32nd birthday in 1987, after I finished my work as an art therapist.
A first high was my invitation to participate in "VOLLBILD AIDS", the first international art exhibition on AIDS, curated by Frank Wagner / NGbK, Berlin 1988. I created a watercolour ceiling painting consisting of 54 sheets of rice paper; the show then went to Bern and Lausanne, Switzerland.

In 1991 I was invited to participate in "Queer", the first exhibition under this title at Wessel & O'Connor Gallery, New York. I exhibited several times at this gallery,
my most successful exhibition there was "Golden Queers" in 1998.
1991 was an extremely productive year, when I worked on German history themes such as "The White Rose", "Kraftschönheit", and the autobiographical series "The Golden Hans" and "Golden Puberty".

In 1995 I met my partner Fox who inspired me to develop my photography skills, especially by taking thousands of pictures of him which led to the publication on my photo book "Amore", 2006, and the project "Erotic portraits from the international queer art scenes", documented in "Subversiv", 2004. As far as my painting is concerned, those years were slacker.

That changed in 2005 with new inspiration from our long stays in Auroville, India during the following ten winters. I loved the people and the colours!

A turning point came in 2015 with my first solo show at The Ballery. Since then, a creative friendship has developed and, thanks to the continuous exhibitions, a strong business base in Berlin. A very pleasant plus is that we are neighbours.

Another big push came in 2017 when I was invited to do an artist residency at the Tom of Finland Foundation in Los Angeles. Great potential was released there.
I started working with the Foundation, returned to L.A. every year since then and got invited to great international venues.
The latest big inspiration is our new home in Casoli, Toscana since 2022. My project on the Italian poet and filmmaker there was a big success.

Where are you at now in terms of your work and your goals?

I feel I can do whatever I want – which is concentrate on my large murals dealing with queer history and the people and places I love. I want to inspire young people to always go foreward while knowing your history well. I want to exhibit my murals in museums and galleries worldwide.


How does Berlin shape your work today?

I get my inspirations from everywhere. Berlin is a great base where I can develop freely and have a lot of space. I have been living on and off in Berlin since 1983 and always appreciated the freedom it has given me. I have seen it with the Wall, the Fall of the Wall, the wild 1990s when everything seemed possible, the new international era since 2000, the complicated new Twenties.
Not sure what phase I like best, I guess I like the constant change.

What can you say about the works you are going to be showing at The Ballery for your solo show and in your opinion how do feel your work has developed over the many years?

I am going to show some artistic highlights since my earliest beginnings. Recently I was given a painting I made of "New York by night" when I was 9. I will also show my miniature installation "Moulin Rouge" from 1968. These two early works already embody many of my lifelong themes. I will exhibit 3 large wall painings.

"Rendezvous of Friends" from 1997, a large scale group portrait of my Berlin artist friends of the 1990s when I did my salons. This is my homage to Berlin, featuring queer legends like Charlotte von Mahlsdorf, Rosa von Praunheim and Jürgen Baldiga.

"Social Distancing", my pandemic work from 2020, seven men doing autofellatio with a safety distance of 1,5 metres.

"Who killed Pasolini" is an installation I created in 2022 to commemorate to centenary of the great Italian poet and filmmaker. It was displayed near my new Italian home,
in Pietrasanta on the piazza in front of the cathedral.

There will be also some Golden Queers and life sized nudes. There will be sketches.

My interests and loves haven't really changed since my younger days. Technically, I always went back and forth between realism and abstraction, I hope it's an upward spiral…
I try to always keep working and pushing limits.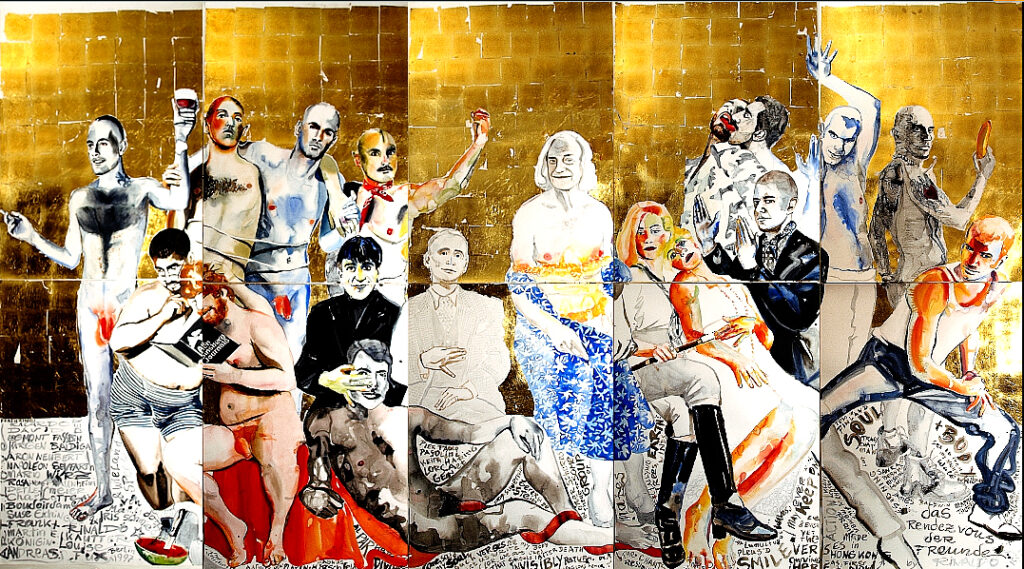 ---
Interview 2022

I am a big fan of your 1990 works which are painted on original pages of 'Die Kunst im Deutschen Reich'. I love that you keep on coming back to German history for inspiration. In a more recent large scale work, you portray Berlin Olympic sensation Jesse Owens painted on vintage 'Berliner Illustrierte Zeitung', from 1936. Please tell me about your affection for vintage German print matter.

I am fascinated by history, evolution and progress. I think it's important to have a deep knowledge of the past to understand the present and envision the future. In Germany, our historical heritage is very burdened, so I am keen on resolving some of the bad Karma. Knowing how it all ended, I am fascinated by the mix of propaganda, advertisement, politics and the depiction of ordinary daily life in these magazines from the 1930s. This is what my parents and grandparents saw and read. Of course I am generally interested in history, and love to work for instance also with vintage gay magazines from various countries, like the vintage American "Advocate" magazines that I used for my project commemorating the Stonewall Riots 1969 in New York.

Please tell me about your discovery of Rainer Werner Fassbinder. Where did it all begin for you?

I saw the Fassbinder films when they first came out in theaters and loved them. The same with the films by Andy Warhol and Pasolini. The three of them were my heroes and influenced my life and thinking enormously. I am very glad to have grown up in the wild and experimental seventies when everything was new and fresh: the music, the fashion, the various liberation movements.
Recently you set up a new home in Italy. I am looking forward to see how your future work will be inspired by your adventures there. When we met you had been spending many years at home in Auroville India. Do you miss being in Auroville?
Yes, I miss Auroville and crazy India. As the whole world is going through troubled times, the visionary international city of Auroville is also going through a very tough phase right now. But I hope to go there again soon. But for now I am really excited about the new adventures in Tuscany. It's an area that has a very rich artistic tradition and I am learning the fresco technique right now. Since I like to do large scale paintings this seems like a very fitting technique. Right now I am preparing an homage to the centenary of the great Italian poet and filmmaker, Pier Paolo Pasolini – right there in the artist village of Casoli where we now have our new home.

If you could swap shoes with someone for one day, who would it be?

David Hockney! I think he ist he most prolific and daring painter and artist of our time, even now at 84! I have no idea how he can still do one huge painting after another, and make even more inventions.
---