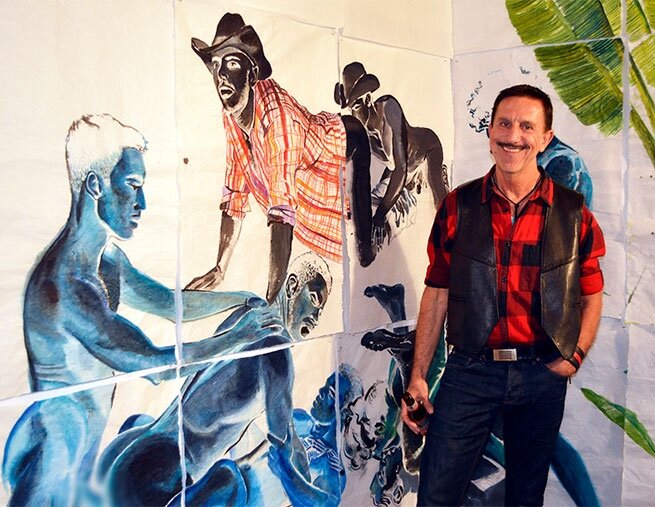 Rinaldo Hopf was born in Freiburg, West Germany on June 30, 1955.

He studied Art, Cultural Anthropology and Religious History in Freiburg, West Germany, San Francisco, California and Bremen, West Germany where he graduated (with honors).

Rinaldo worked as a Visual Artist in San Francisco, California and Paris, France (Atelier Dedalo Montali) and as an Art Therapist in Forensic Institutions in San Francisco and West Berlin.

He currently lives and works as a Visual Artist, Editor and Curator in Berlin, Casoli/Tuscany and Los Angeles.

Since 2019 Rinaldo is married with his lontime partner Frank Tepel alias Fox.
Two books of his photography: "Subversiv", 2004; "Amore", 2006 and his art book "Trickster", 2013 were published by Konkursbuch Verlag Claudia Gehrke, Tübingen, Germany. He is also the editor of the art anthology
"Mein schwules Auge / My gay Eye" 3 – 19, 2005 – 2022 for the same publisher.
ARTIST RESIDENCIES AND GRANTS
1988 Civitella d' Agliano, Rome, Italy (by the Kunstfonds, Bonn)
1992 Istanbul Studio Grant, Istanbul, Turkey (by the Senate of Berlin)
1993 Käthe Dorsch Foundation, Berlin, Germany
1995 Delfina Studio Grant, New York, USA (by Delfina Foundation, Madrid)
2006 Elledorado e.V., Berlin, Germany
2017, 2020, and 2022 Tom of Finland Foundation, Los Angeles, USA
---