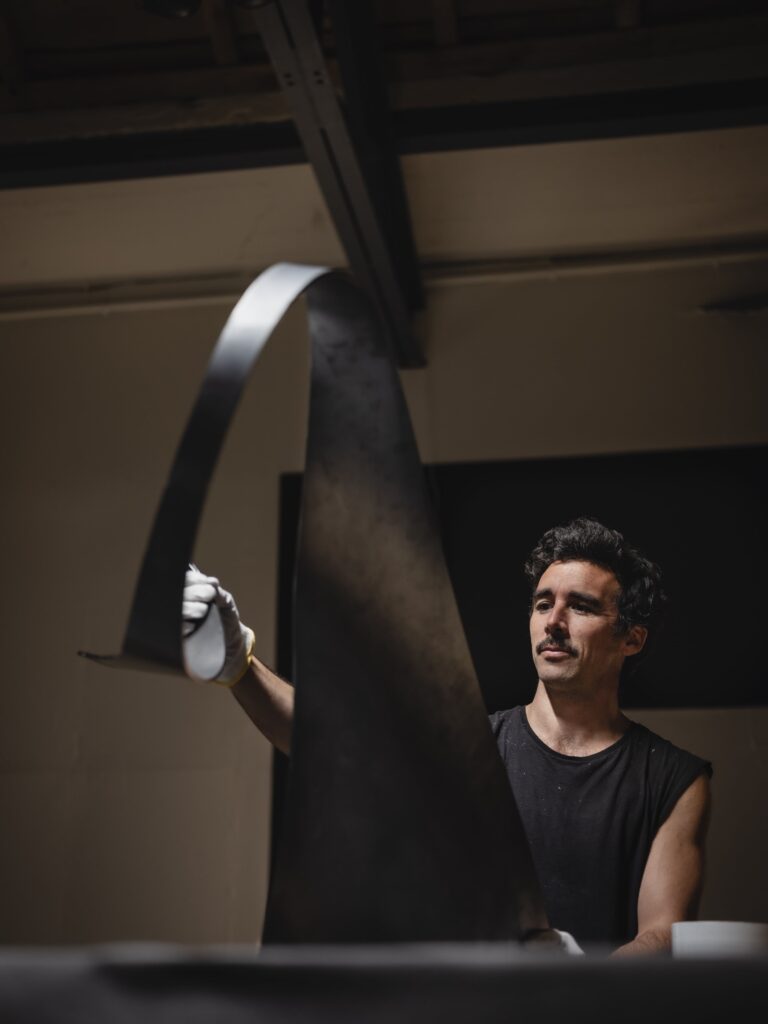 Solo sculpture Exhibition – Alejandro Urrutia
21 July: Opening 6-9pm

Date of birth: 23/11/1979
Place of birth: Los Angeles, Chile
Where did you grow up?
Throughout my life I have been moving. I was born in the south of Chile surrounded by lakes forest and volcanos, a few years later we moved to the north in the Atacama Desert, one of the driest deserts in the world, I also lived in Santiago, Chile, Buenos Aires, Argentina and before coming to Berlin I lived 3 years in Copenhague
Where do you live now?
Now I live in Kreuzberg, Berlin
Please can you give a short introduction into your artistic career?
I work with the synergies between architectural and sculptural principles. My aim is to materialize physical phenomena such as gravity, resistance, and the exchange of forces taking shape in sculptural objects representing balance and equilibrium. Concepts observed in nature in the dialectic between movement and harmony, through natural cycles and physical forces in equilibrium.
I graduate as an Architect in Pontificia Universidad Católica de Chile (2006) and on 2007 did a Postgraduate on Metal Sculpture at Universidad de Chile.
My recent exhibitions include:
2022 André Evard Preis | Kunsthalle Messme, Riegel, Germany.
2021 Chilean Conexión | Monopol, Berlin, Germany.
2021 Kunstbabrik group show | HB55 Kunstfabrik, Berlin, Germany.
2020 "The End is the Beginning is the End" Solo Show | Sirin Gallery, Copenhague, Denmark.
2020 "Circular" Solo Show | Nac Gallery, Santiago, Chile..
2019 Open studio GlogauAIR | GlogauAir residence, Berlin, Germany.
2019 Uncharted | Sirin Gallery, Copenhague, Denmark.
2019 Form/ Function Be One | Sirin Gallery, Copenhague, Denmark.
2019 YICCA International Contest Contemporary Art | HDLU museum, Zagreb, Croatia. Curator: Leila Topić Zagreb's Museum of Contemporary Art.
2018 "Balance" Solo Show | Nac Gallery, Santiago, Chile.
Also participated in different art fairs among Europe:
2020 Cosmoscow | online version, Denmark.
2020 ENTER Art Fair | Tunnelfabrikken, Copenhague, Denmark.
2020 Art Paris 2020 | Art Digital Paris, Artsy online version.
2019 Chart Fair | Den Frie, Copenhague, Denmark.
My work has been published in different books and magazines around the world, such as Art Maze Magazine London, Future Now 2019 -100 Contemporary Artists from Aesthetica Art, Le Monde Diplomatique, France, Relief magazine, Italy, Ark Journal, Denmark, Latinoamerica Circuitos del Arte, Peru and Arte Al Límite Magazine, Chile. Also awarded by YICCA International Contest Contemporary Art in Zagreb, Croatia, André Evard Preis in Riegel, Germany, Aesthetica Art Prize in London and Fondart Ventanilla Abierta, Chile.
Where are you at now in terms of your work and your goals?
I'm on a constant ongoing investigation process, developing a new serie of works in bronze for my next solo show at NAC gallery in Chile on mars 2024.
Do you think that living in Berlin has shaped your work?
Berlin is an amazing city, the freedom and possibilities of exploration that provides has definitely affected my work. Also, the technical facilities such as the BBK workshops and collaboration with different artist and disciplines which enrich the creative process.
What can you say about the works you are showing at The Ballery and In your opinion they work alongside the works of Erwin van Hoof?
The works I'm showing at the Ballery are inspired by the movement in nature, forces in search of balance. As in Erwin pieces the geometrical forms react to the light and reflections through the different shapes and material integrating the viewer and surroundings. An everlasting changing orchestra.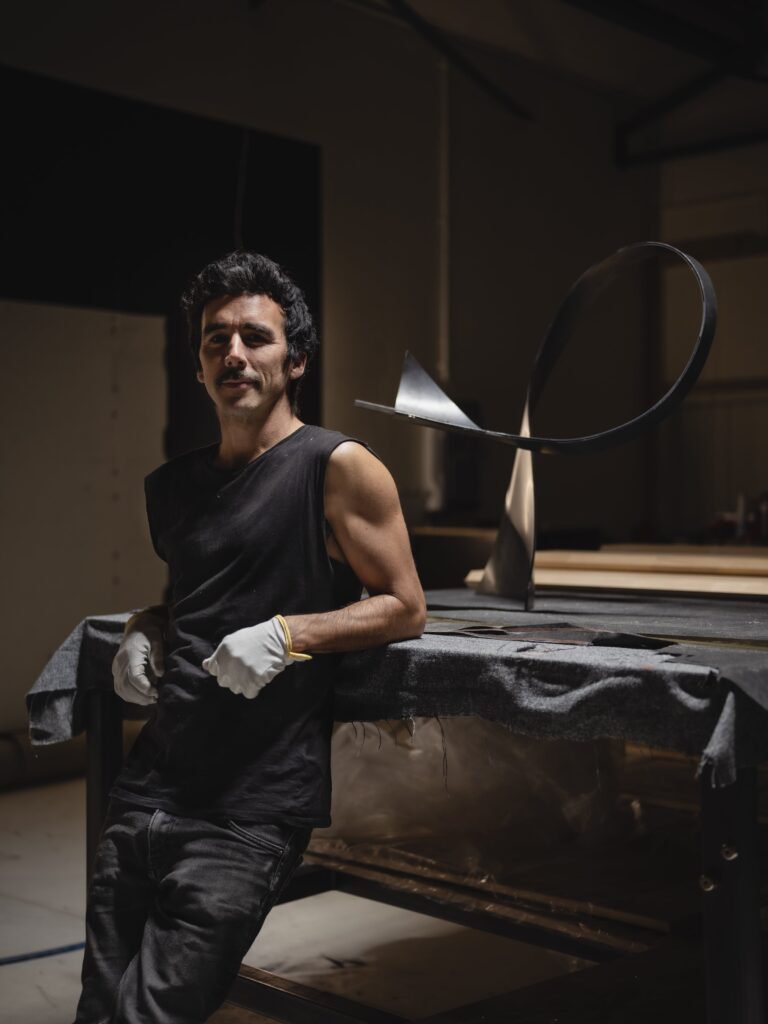 Opening times:
Tuesday – Saturday 1-6pm
Please make an appointment for all other times. [email protected]
---