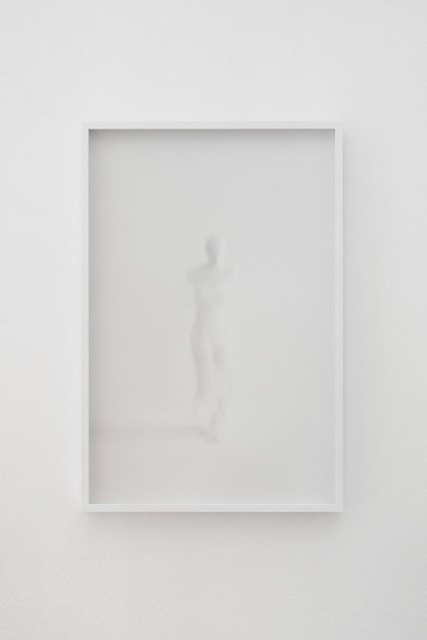 Artist: Julija Goyd
Title: Figures 1
Material: 2/5 AP, Inkjet print on Hahnemuhle paper
Dimension: 20cm x 30cm
Price: € 500 + MwSt 16%
---
The series "Figures" explores further the subject of a body, its constant search and struggle for continuity. It is a portrayal of a body, set in motion and photographed on a long exposure, which enables us in fascination to observe how time, paused just for a few seconds, creates almost a transcendent image of finitude.
Julija Goyd was born 1979 in Vilnius, Lithuania. She currently lives and works in Berlin.
After her graduation in economics Julija has been working as a financial manager during 2003-2006. In 2006 she switched to the domains of advertisement and fashion, where she met Lithuanian film directors Ignas Jonynas and Valdas Navasaitis. She worked with both as an actress in their movies Dancing Worm (2006) and Perpetuum Mobile (2008) and was nominated for Best Actress in a Leading Role during 2008 Lithuanian Film Awards "Sidabrinė Gervė Award". In 2010 she expanded her career into the world of fine arts: starting with photography and video and pursuing this ever since.
Her photography work was featured in the book The Naked & The Nude curated by Peter Weiermair and published in 2013 by Stockmal and Martel. The book is an anthology of international nude photography, which features works by some of contemporary art's best-known names like Wolfgang Tillmanns, Nobuyoshi Araki, Ralph Gibson, Vanessa Beecroft and Jeff Bark. Following the success of the first book, Peter Weiermair curated another edition titled Faces (2015) and Julija's photographs were featured for a second time alongside works by Robert Mapplethorpe, Juergen Teller, Anton Corbijn, Antoine D'Agata and Pieter Hugo.
One of her major film projects, a documentary about the research institute Rework, was successfully premiered in Berlin during The Long Night of Sciences (2013).
In 2016 she started a collaboration with &editions – a non-profit initiative supporting both art institutions and artists. That is the first project of this kind covering the Baltic region. As a result Julija's work has been showcased during Printed Matter's LA Art book Fair (2017), Offprint London at Tate Modern (2017), Printed Matter's NY Art book Fair at MoMAPS1 (2017) and Offprint Paris at Ecole Nationale Superieure des Beaux-Arts (2018).
Her video work "Decadentia" was programmed as part of Art Biennale Glasgow International 2018.
Contact
Use the form below to get in touch with The Ballery if you have any questions or would like to have a private walkthrough with The Ballery's Director Simon Williams about this creation. The session can either be held at The Ballery's premises in Schöneberg, Berlin; or via online video conferencing.