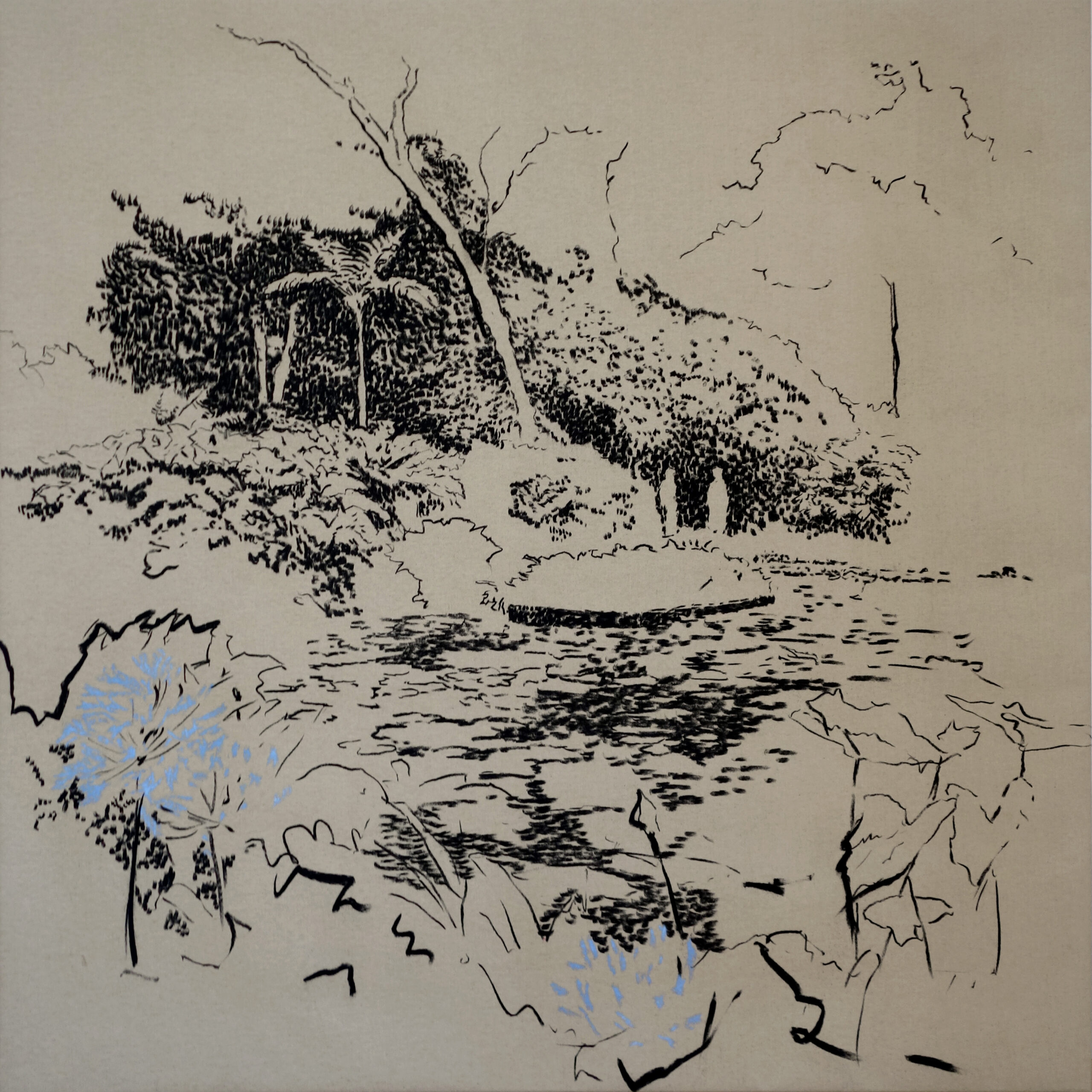 Artist Interview: Gawie Joubert
Whilst the first Pop-Up Show is still open until Saturday, we've heard from all our artists taking part in this exhibition. A huge thanks to them all for taking part in the show and for those who took part in the interviews! So, from today onwards we are sharing interviews from artists in the next show! First up is Gawie Joubert! The second Pop-Up Show opens Saturday 21st August.
What is your background? Perhaps you could briefly introduce yourself and your practice?
Hi, I'm Gawie Joubert, a South African visual artist who lives and works in Berlin, Germany. I have a Graphic Design degree and I had a brief career as an award-winning Art Director, Illustrator, and Illustration lecturer. In 2014, I focused my attention on my fine-art career and became a full-time artist. I have participated in numerous solo and group exhibitions and art fairs locally and abroad. I've been selected as part of the Top 30 for the SA Taxi Foundation Art Award (2017) and the Top 100 for the Thami Mnyele Fine Art Award. In 2017, I was invited to The Budapest Art Factory International Artist and Curator Residency Program where I spent 5 months living and working in Hungary.
Have you shown any work at The Ballery before?
No I haven't and I'm super excited to be part of this group show!
What made you apply for this call?
I've been at a couple of the openings at The Ballery and really enjoyed them. So when this opportunity came around I knew I wanted to be part of it.
Why did you choose to submit the work that you did?
This is one of the artworks that haven't been on show before so I thought it would be the best one to submit.
Can you tell us a bit about this work?
This artwork is part of the Durban series, created during the first and second lockdown. Confined within my apartment and the uncertainty of the pandemic weighing on me. It reflects on grey Berlin days and yearns for the sea-side humidity and sweltering heat experienced while living in Durban before moving to Berlin. These large drawings are based on sketches I made while living in Durban.
Has it been shown before?
This specific artwork has not been shown before but some of the other artworks from the Durban series have been on show last year and this year.
What are your biggest influences?
My ethereal ink and charcoal drawings evolve around the complex connections between humans and nature. I simultaneously explore my own interest in the fluidity of identity and the impact of anxiety on my work that was inspired by the works of Georgia O'Keeffe, Zachari Logan, and Edward Munch. Fueled by my belief that humans are dependent on nature for psychological and physical well being. 
In which ways has living in Berlin shaped your work or practice?
Berlin has definitely been a space for me to step back and start experimenting more.
What other artists do you like, are there any other Berlin-based artists you are interested in?
Where do I begin?  Ekataerina Kovalenko, Kristina Okan, Yolandé Gouws, Allison Sommers, Alicja Kwade, Anto Christ and Casio Ono, Siggie Eggertsson, Philippe Rebosz, Ming Lu, Colette Vermeulen and Karl Korsar
Have you ever been in a group show before?
Yes, multiple since 2013
What's the experience like for you?
I have a love-hate relationship with it. It's always nerve wrecking at the beginning and then it blossoms into a great social gathering and that's what I love about it
How do you feel about exhibiting work online instead of in a space?
Both options have their own pros and cons. I definitely miss the social aspect of exhibiting in a space and the conversations that it triggers. 
What is your approach to pricing your work?
I use a simple size formula. This way my prices stayed consistent even when I lived in South Africa, Abu Dhabi and Berlin.
What are you looking for from an exhibition, besides selling work?
The social aspect of it. I love getting to meet other artists and understanding their practice. This way I get a greater appreciation for the work they do.
Do you ever get nervous about showing work in an exhibition?
Always! It's like putting a little piece of your soul out there and waiting for people to judge it. But in reality people who come to shows come because their souls need it and I constantly have to remind myself about that.