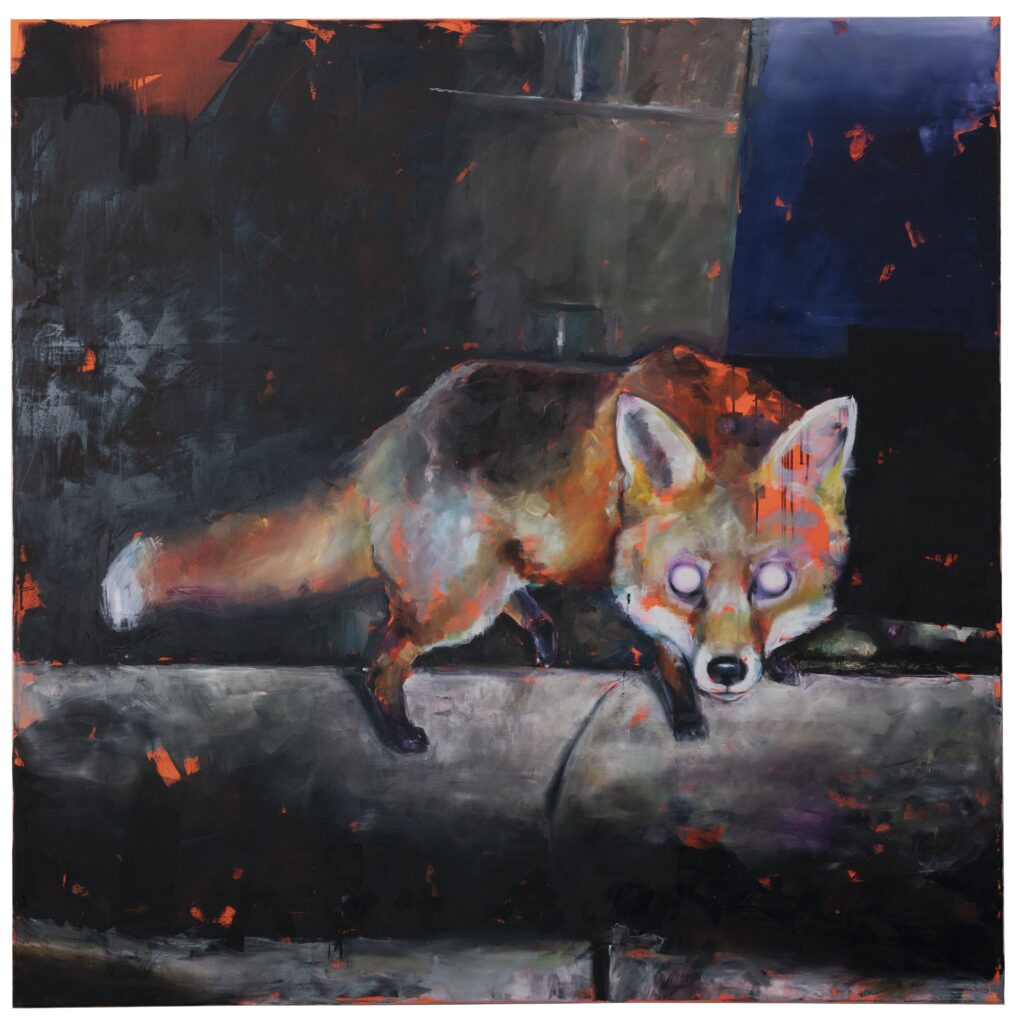 Artist: Marie-Charlotte Nouza
Title: The Fox
Material: Oil on Canvas
Dimension: 200cm x 200cm
Price: € 10,000 + MwSt 19%
---
Observer point of view. The Fox in the 2 x 2 meter painting by Marie-Charlotte Nouza does not give up, he fixes the random viewer and forces him to think about our relationship with nature.
Where does civilization begin, where does nature end?
Each of us has met a fox in the streets of Berlin. The adaptable animals find a rich food supply of leftovers, mice and worms. The nocturnal animals always stay at a certain distance from us humans, observe us and still see us urban people as a threat to their lives, an experience of humans as hunters on two legs anchored in the genome. It is estimated that between 5,000 and 10,000 foxes live in Berlin.
The 30th anniversary of the Berlin Wall has created its own genetic population that no longer mixes with the foxes of the surrounding country. Unique in the world. The fear, the movement at night to remain undetected, the fox as a cross-border commuter – chains of association that moved Marie-Charlotte Nouza to place "her" fox on the Berlin Wall.
Is he guarding his terrain? Is he on the run?
As in the fable, it is human questions that we put into it when observing the picture. This is reinforced by the colouring of Marie-Charlotte Nouza: She chooses colours that give the whole picture an atmosphere of nightly, mysterious, a hidden world under the realistic surface; but also the moment of surprise as if a flashlight were aimed at the animal.
Two worlds collide, the diurnal person and the nocturnal animal (nightlife turns night into day).
Contact
Use the form below to get in touch with The Ballery if you have any questions or would like to have a private walkthrough with The Ballery's Director Simon Williams about this creation. The session can either be held at The Ballery's premises in Schöneberg, Berlin; or via online video conferencing.