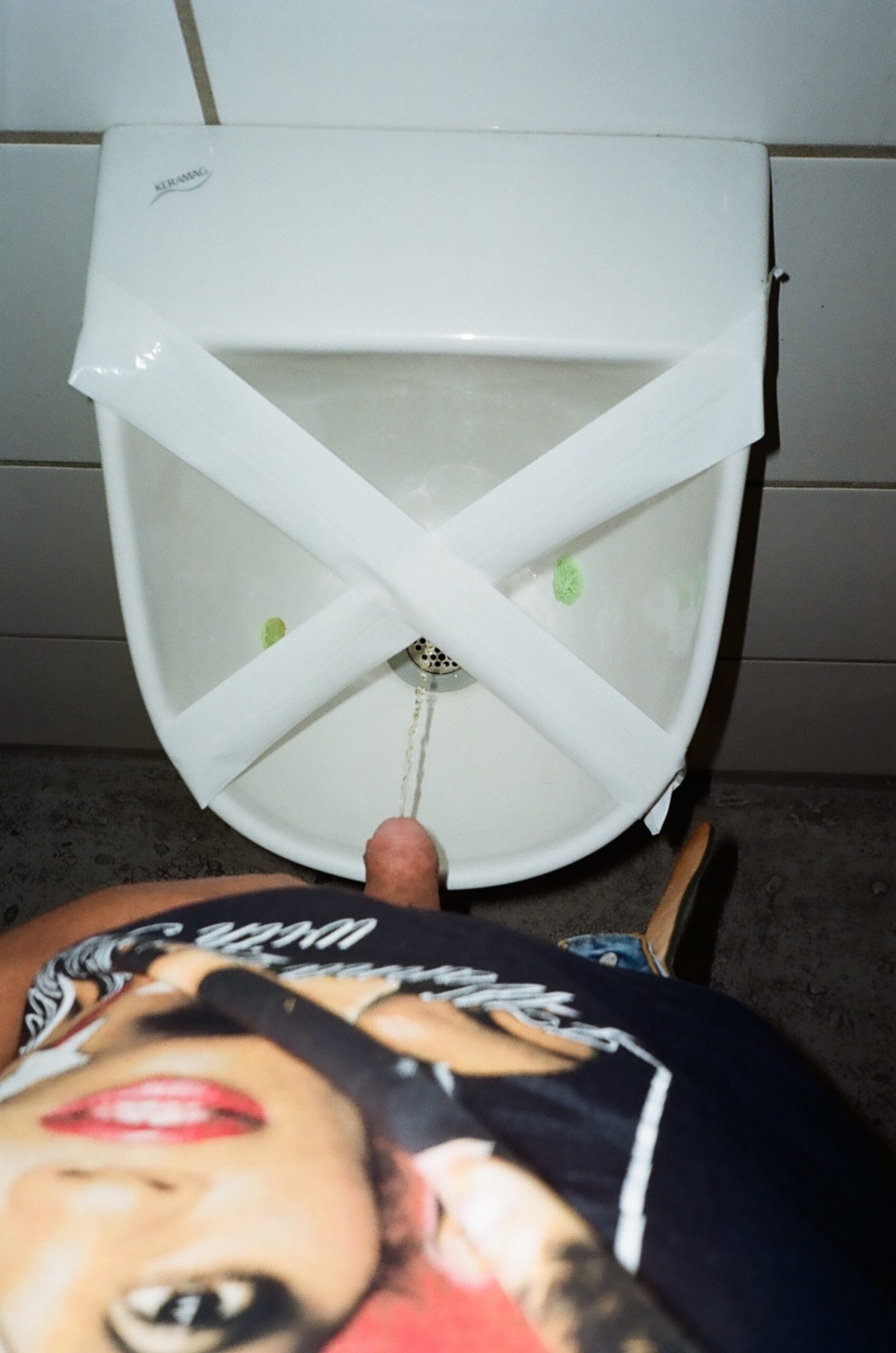 Artist Interview: GodsAndBoys
The artist reception of the fetish exhibition is tonight and the exhibition opens to the public tomorrow! 
Here is an interview with GodsAndBoys, whose work we are pleased to show in the exhibition. It's open for a week so be sure to visit and see the works in the special Ballery setting.
Thanks for answering my questions GodsAndBoys!
What is your background? Perhaps you could briefly introduce yourself and your practice?
Born and raised in Berlin in the 80's. Started with fashion design years ago and switched to  fashion and portrait photography and started GodsAndBoys for charity in 2019.
Feels like GodsAndBooks became my alter ego. It's fun, work and business.
Can you tell us a bit about this work?
"Trilogy of pee" is a very small part of my work. Especially these three images, which are also part of my upcoming book about me peeing in weird toilets all over the world. It's a mix of a pee diary, grotesque places and the aspect of intimacy and voyeurism. This work is different to my other photographs because it's all about me.
What does 'fetish' mean to you?
Fetish is a part of the sexual identity. For some people it's a huge part of their identity and lifestyle as well, unfortunately not for me. In my case it's just fun while having sex but I don't spend time overthinking it. However – piss play and watersports aren't my fetish. Sorry to disappoint you.
What made you apply for this call in particular?
I saw the Instagram post and just sent the email. Some people told me before my work is very sexual with strong aspects of fetishism. I just tried it.
Do you think Berlin has a unique connection to fetishism, if so why?
I think Berlin is very open and a playground for all kind of fetish, sexual identities and adventures in general. Also it's one of most successful marketing strategy of Berlin: "Arm aber sexy".  The connection to fetishism is not unique – it's just very clever.
How do you feel about exhibiting work online instead of in a space?
In my opinion art is not for the world wide web. The internet is a mess – checking out art on social media only is like fast fashion. To promote art online could be an add on.
I don't want to show my art on the same page like a random TikTok douchbag with 100k followers and a range of camera filters.
What are you looking for from an exhibition, besides selling work?
I really like the discussion with other creative people and the exchange of ideas or different views. At the same time, I hate to talk about my art. Because it's a photo – sometimes a snapshot. Theres nothing to talk about. Look at it.

Do you ever get nervous about showing work in an exhibition?
It's more about getting nervous about deadlines. It's the timing of printing and framing.
Sometimes it's not the right paper for a print. Or the frame isn't the right one. 
Have you ever shown at The Ballery before?
It's my first time at The Ballery.