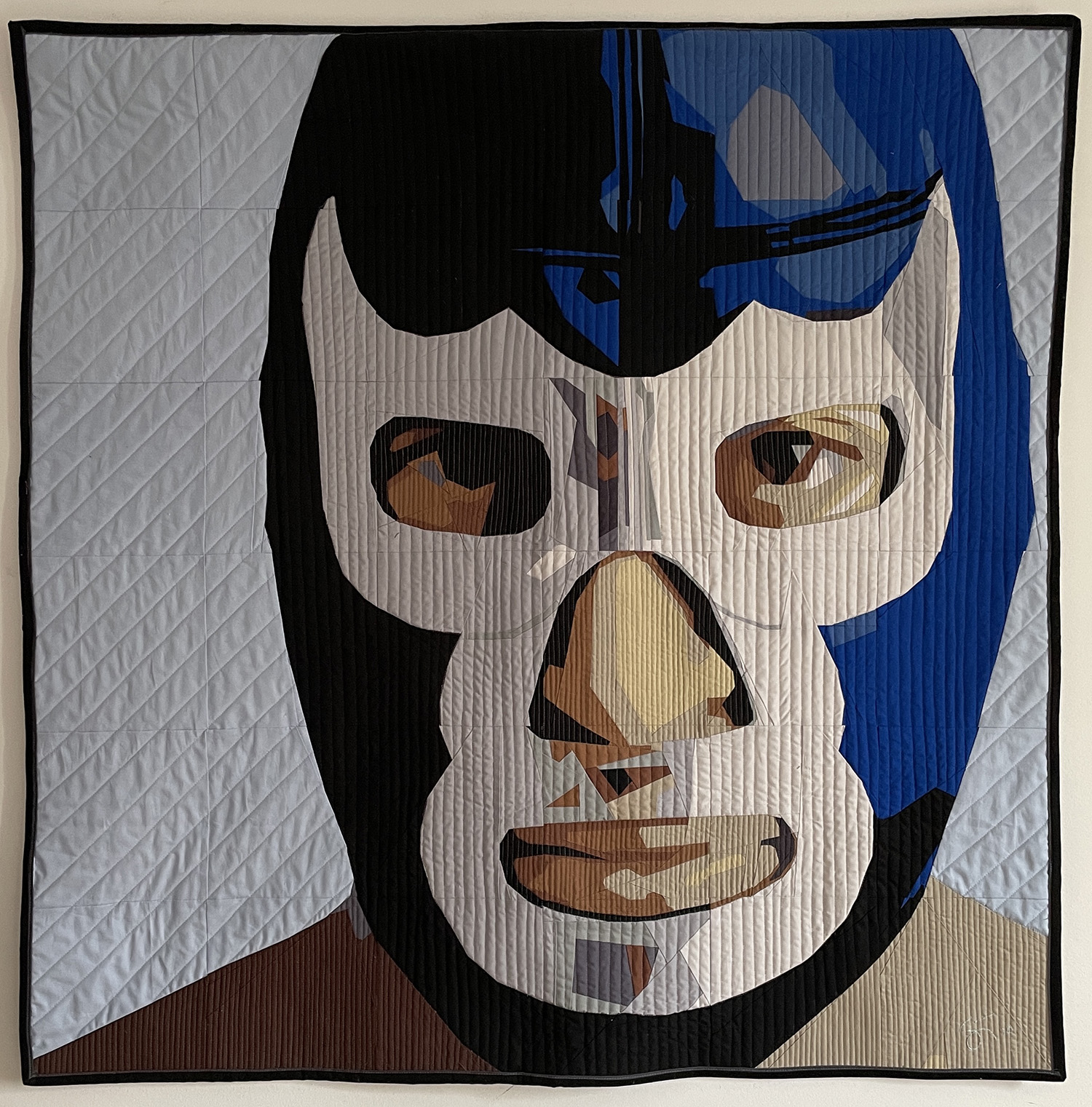 Artist Interview: Scott Culley
Here is the last interview I will be sharing for the fetish exhibition, and it's with artist Scott Culley! This work is called Mask #1 and will be on show at The Ballery, along with lots of other great pieces, until next week!
Thanks again to Scott, to all the artists who answered my questions, and to everybody taking part in the show.
What is your background? Perhaps you could briefly introduce yourself and your practice?
I am an American-born artist who crafts unique quilted artworks and limited edition prints. By exploring themes of the macabre and masculinity, expressed through vibrant, intricate designs and textile art, I aim to surprise and inspire other men to see that quilting is a powerful way to express themselves. I am a trained architect with Bachelor's degrees in Architecture and Design Studies from the Boston Architectural College. A self-taught quilter, I live in Berlin with my husband and two children.
Can you tell us a bit about this work?
Mask #1 – This is an inquiry into the belief that people can never show their true selves, everyone has something to hide, everyone wears a mask. The mask can be used to hide who you are, to cover up a perceived weakness, to make you seem stronger to your enemies, like the luchador, the Mexican wrestler. In this piece, the mask gives the luchador self-perceived power over his opponents while hiding all his shortcomings. The mask is in essence his fetish, it transforms him. Masks do not need to be literal, to be effective, however. I invite the viewer to think about the masks that they wear. Who are you pretending to be? What are you hiding from? Where do you want your mask to take you?
What does 'fetish' mean to you?
To me, to have a fetish is to have something, an object or concept, that gives you joy or makes you feel powerful. I think a majority of people will associate the term fetish with something sexual in nature, but I don't believe it has to be. I think everyone has fetishes of one kind or another, to one degree or another.
What made you apply for this call in particular?
My artwork pushes the boundaries of a very safe and quaint art form, crafted traditionally by gray-haired grandmas. Through my themes of masculinity and the macabre, I want to challenge conventional thinking with this specific piece, Mask #1. This exhibition is also provocative, challenging the viewer to reconsider long-held beliefs.
Do you feel the discussion around fetishes is a balanced one, or do you think it often comes from one particular perspective?
No, the discussion is not balanced, it never will be. Fetishes will always be seen through the lens of sexuality and the way our society is structured, the subject will always be seen as taboo and pushed into the closet by the mainstream. It takes a rebellious nature of the minority to put out into the public and want to talk about it, in an effort to normalize it.
Do you think Berlin has a unique connection to fetishism, if so why?
Certainly! Berlin has a long and rich history of being a very sex-positive city and being a place to live free from judgment. It's the perfect environment to cultivate everyone's desires.
How do you feel about exhibiting work online instead of in a space?
Exhibiting online really scratched the itch of the artist who wanted to be exhibited at a time when we couldn't be together. Unless accompanied by a social aspect like an artist's roundtable, online exhibitions can be a back hole. I would much rather exhibit in a physical space, not only for the social aspects but also because my art is made to be experienced in person. When you see my art up close and personal and feel the textures, seams, and fabric, you gain a whole new appreciation that cannot be replicated online.
What are you looking for from an exhibition, besides selling work?
I'm excited to meet the other artists. This is a new venue for me, so I'm excited to share my work with a new group of people – we've been cooped up for the past year and a half, and even though I'm an introvert, I really miss community.
Do you ever get nervous about showing work in an exhibition?
Oh, of course, art is very personal, and to put out for all to enjoy and hate and judge is very intimidating. With each exhibition, the anxiety gets easier, the therapy is helping too.
Have you ever shown at The Ballery before?
No, I have not, and I hope this will not be the last time.
www.instagram.com/scottculleydesign