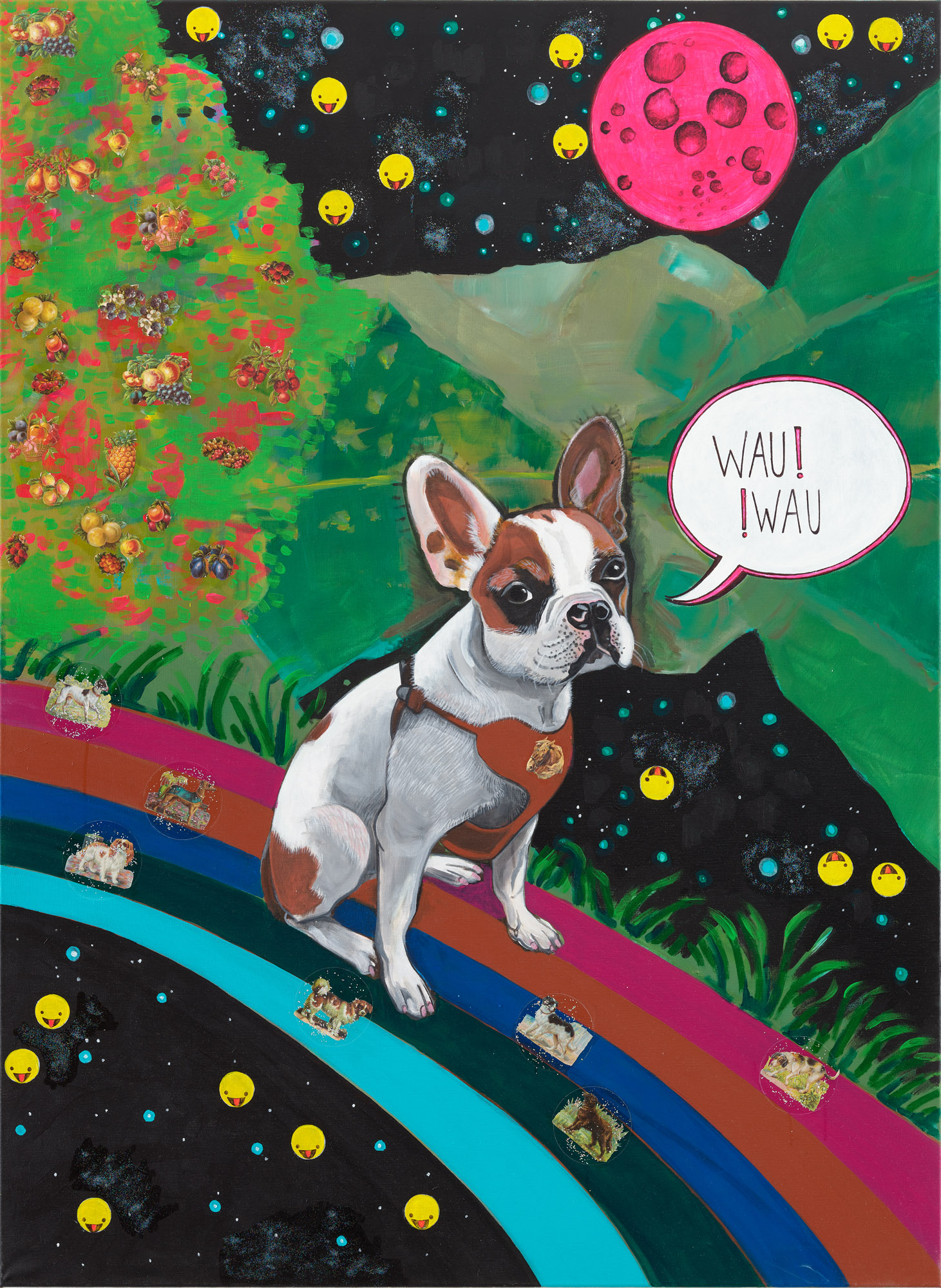 Artist Interview: Mara Wagenführ
What is your background? Perhaps you could briefly introduce yourself and your practice?
I studied painting at the UDK and since then I am active as an artist; with a focus on mixed media paintings, textile work (such as embroideries) and installations.  The human body, in the context of the self portrait, as a portal between the personal inner life and the external events is the central topic of my work, always guided by the question of the meaning of our existence and an investigation on a religious, poetic and romantic level.
Have you shown any work at The Ballery before? 
Not yet – I am really looking forward to being part of the group show.
What made you apply for this call?
I have been following the gallery program for quite a while and somehow this felt like the right moment to do it.
Why did you choose to submit the work that you did?
Actually I was applying with some other work, but Simon asked me if 'Wau Wau', the painting I will show is also available.
Can you tell us a bit about this work?
It's a portrait of my dog Willi who became part of my life 2 years ago and is really a heart opener to me. So somehow it is also a self portrait.The title is Wau Wau or: the unbearable lightness of being, which refers to the idea of being in the present moment. 
Has it been shown before?
No.
What are your biggest influences?
Music is a big influence as well as practicing Yoga, which has created a change in my thinking about what is really important in life.
In which ways has living in Berlin shaped your work or practice?
Just as the self-portrait is a central theme in my work, living in Berlin has also definitely shaped my work, especially Berlin Nightlife, cultural diversity and the free spirit of the city and its people in general.
What other artists do you like, are there any other Berlin-based artists you are interested in?
Numerous.There are so many divine artists around.
Have you ever been in a group show before?
Yes, in many exhibitions since my studies.
What's the experience like for you?
It is always beautiful to connect and exchange with the other participating artists as well as to talk to the viewers.
How do you feel about exhibiting work online instead of in a space?
The part of connecting and exchanging in the personal context I mentioned before is missing, but it does offer other advantages and possibilities. You can reach many more people worldwide through an online exhibition…so somehow it is also connecting on another level. 
What is your approach to pricing your work? 
I calculate the price of my work with the help of different quotients for painting, textile and paper.
What are you looking for from an exhibition, besides selling work?
See question 11 🙂
Do you ever get nervous about showing work in an exhibition?
Sure. Especially, when it is work I have never shown before.