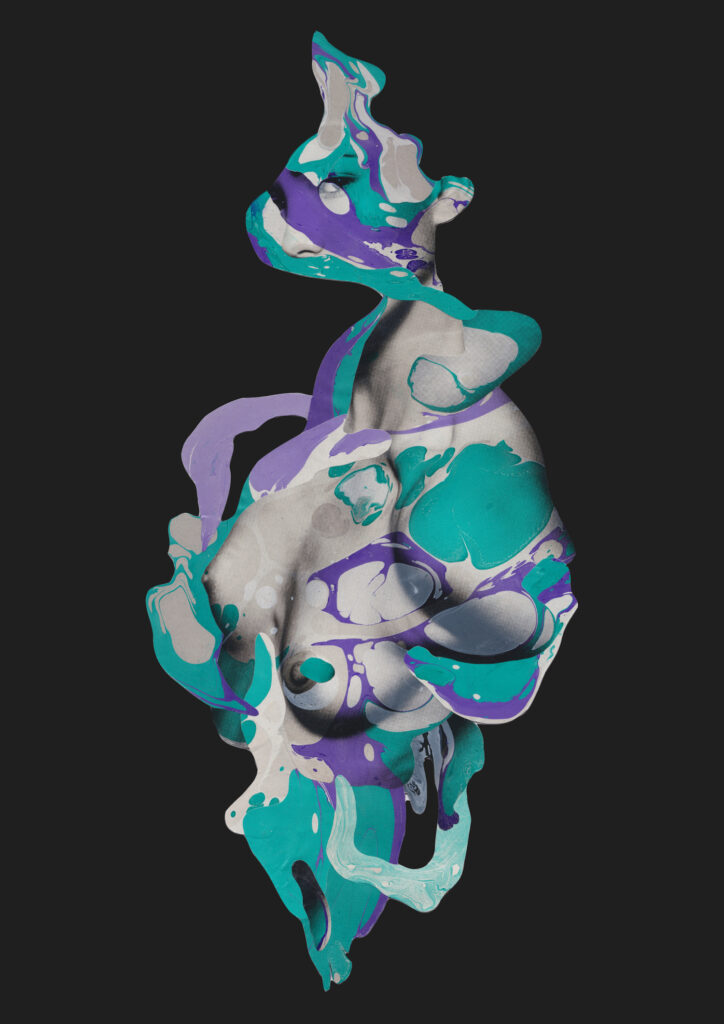 Artist Interview: Koywe Kollage
Today we are also sharing an interview with Koywe Kollage, who is showing the work 'BIA 1', a mixed media analog collage, at the first of the Pop-Up Shows opening this Friday. 
What is your background? Perhaps you could briefly introduce yourself and your practice?
I´m a mixed media and analog collage artist from Chile, based in Berlin that goes by the name of "Koywe Kollage". My collection of unique cut collages is based on the search for artistic expression through paper as the main working material.  
Have you shown any work at The Ballery before? 
Yes, I participated for the first time in 2019 with one of my collages that was sold on the day of the Vernissage. Then in 2020, I participated twice, showing a total of 5 pieces. 
What made you apply for this call?
As I am already familiar with the gallery, I know the kind of exhibitions you do and I really like the way you work, the kind of audience The Ballery attracts and the selection of artists you include. There is always a good atmosphere in the gallery. 
Why did you choose to submit the work that you did?
Every time I participate in the Open Calls of The Ballery, I like to show the versatility in my work and, although this work is not within my recurring themes, it has for me, a special energy and a message of empowerment that I wanted to share with the friends of The Ballery. 
Can you tell us a bit about this work?
The name of this piece is BIA 1 and it's part of a series of three mixed media analog collages called "BIA IN THREE SKINS – The personification of force and raw energy in different bodies"
The inspiration and name for the series come from Greek mythology. In ancient Greek: Βία, means "power, force, might" and it was the female personification of strength, anger, and raw energy.
I'm channeling and embracing this powerful feminine invisible energy represented in abstract portraits.
Each work begins with naked body b&w photographs that serve as a blank canvas that later, with the addition of paint floating in the water, absorbs and captures the tonalities and movement of that paint, simulating an invisible energy that emerges and floats in the darkness.
Has it been shown before?
It hasn't been shown live yet, but I have already posted it on my Instagram account and website. 
What are your biggest influences?
My greatest influence comes from what inspires me, such as nature, the human body, sex, queerness, and how they relate to each other and coexist in this world. I try to portray that which surrounds us yet is non-visible and intangible as abstracts, likening it to the universal energy with which we coexist and which we also emit.
In which ways has living in Berlin shaped your work or practice?
Living in Berlin has allowed me to think without barriers and to live the freedom of expression that I always dreamed of. It is a city that provides a great source of inspiration, either by the number of monuments, museums, and historical buildings, which converges with a dynamic, ever-changing, and more alternative scene that is highly creative. The fact that I live in a city where people value art and culture, makes me reaffirm that I must follow my own instinct.  
What other artists do you like, are there any other Berlin-based artists you are interested in?
I like many artists from different disciplines but when it comes to analog or mixed media collagists, I admire the work of, for example, Max-o-Matic, Anibal Toro Figueroa, John Vochatzer, Bill Noir, Ben DiNino, Kai Holland, and Dennis Busch, among many others. There are some artists based in Berlin but the list will be too long. 
Have you ever been in a group show before?
Yes, a few times at The Ballery, in other galleries and virtual exhibitions too. 
What's the experience like for you?
I really enjoy meeting new creative minds, sharing entertaining moments with them, and understanding firsthand their unique work. At the same time, when it comes to a thematic exhibition, it is very inspiring to see how other artists interpret the concept, often creating something completely different from what I am proposing. 
How do you feel about exhibiting work online instead of in a space?
Personally, I feel that art should be experienced live as you have the opportunity to pay attention to the details, to see how the technique has been done, to appreciate the real colors of the piece, and to understand the complete proposal of the artwork. Unfortunately online I feel that all this is lost and you mainly end up appreciating an image, as you can do on social networks. I understand that at this time it is complicated for many countries but if I had to choose, I would opt for live exhibitions. 
What is your approach to pricing your work? 
I know that this is not an easy subject and that it is difficult for artists to talk about, so I try to be as realistic as possible when pricing. I evaluate the hours of work, the materials used and their cost, possible shipping, and framing. From this, I get a general idea and see what I feel is fair to charge at this point in my career. I value the input of other friends who know the market and have insight as buyers and incorporate this information into the final price. 
What are you looking for from an exhibition, besides selling work?
That new people get to know my work, that gallery owners see the way I work, that viewers have the opportunity to observe the details of my work (which are very important to me) and that I have the space to talk about my work in more detail so that the viewer can understand the piece even better.
I´m looking to establish new connections that will allow me to have more opportunities in the future and that collectors know that collage is my passion.
Do you ever get nervous about showing work in an exhibition?
There is always a certain amount of nervousness since showing your art to others is an act of vulnerability, but I enjoy it very much and I keep a positive mind. It makes me think and reflect on the way I express myself about my work. 
I really like to listen to the interpretation that viewers have of my work, which many times are different from the original idea, but I see it as a very nourishing feedback. 
https://www.instagram.com/koywekollage/