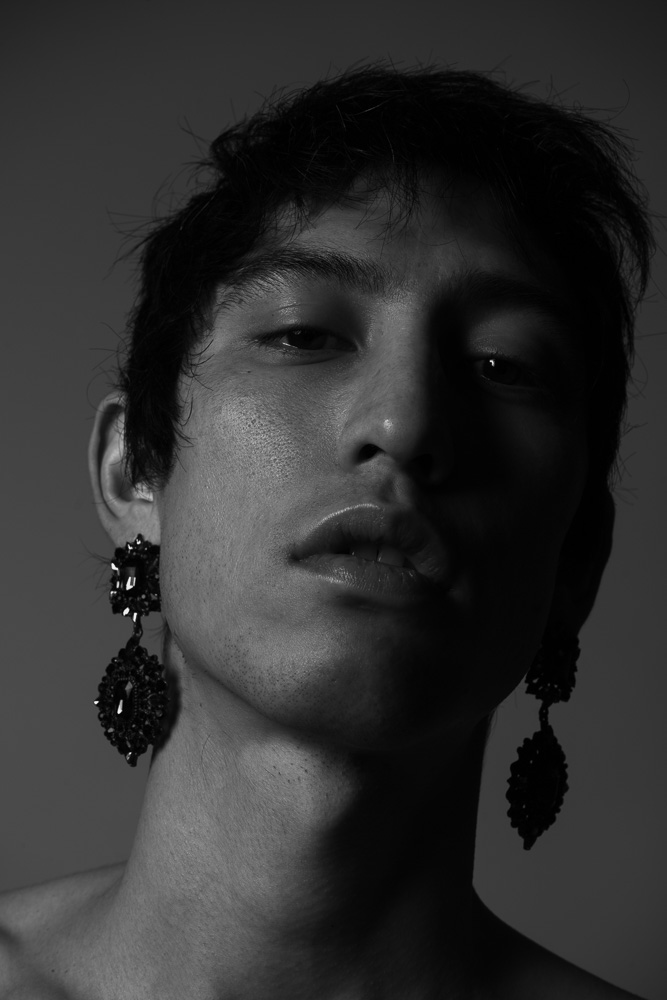 Artist Interview: Aja Jacques
We are really happy to have so many talented Berlin-based artists taking part in the Pop-Up shows, and many of them have been kind enough to answer a few questions about their work and practice. Over the next few weeks I will be sharing a lot of these artist interviews so you can hear directly from the artists and get to know some of them before the shows.
First up is Aja Jacques who is participating in the first show this Friday! We are so happy to have this piece in the show. Take a look at more of Aja's work through the links below.
What is your background? Perhaps you could briefly introduce yourself and your practice?
I am a multi-disciplinary artist, originally from Vancouver, Canada. I have previously had careers as a ballet dancer, performance artist, and nude model, and most recently I have graduated from photography school. My work is always rooted in photography, but my larger projects often incorporate other media such as audio, installation, video, and text.
Have you shown any work at The Ballery before?
I have not shown my own work, however, two years ago photos of me by Leonardo Julian Rossi were shown at the Pop-Up exhibition. It feels like I've come full circle now, to now be showing my work as a photographer as I make the transition away from being a model.
What made you apply for this call?
I love the way the Pop-Up exhibitions, and The Ballery as a whole, supports the Berlin art community and brings people together. I knew I would enjoy being a part of it, and of course I am always excited about the opportunity to exhibit my work.
Why did you choose to submit the work that you did?
For the past year I have mostly been working on photo projects that are larger series. Since I was asked to submit only one image for this exhibition, I tried to choose a work of mine that would stand the strongest on it's own.
Can you tell us a bit about this work?
This is a portrait of one of my best friends, Soren Jahan, who is also a photographer. I took this photo of him in his home studio last summer. When I photograph men I usually try to show some femininity, softness, and depth, which I don't often see in typical images of them. I think that the darkness of this image also reflects the difficult mental health issues that I was dealing with when I shot this.
What are your biggest influences?
It's hard to say what my biggest influences are, because I am influenced by many many things – and they are always changing. I do not have any singular heroes or movements that have continually inspired my path as an artist. More than anything, my work is influenced by my own emotions, and the struggles I am facing at the time I am creating.
In which ways has living in Berlin shaped your work or practice?
Berlin has shaped everything – and I mean everything – about my practice. I moved to Berlin when I was 19, and at the time I believed that I actually just wasn't a creative person, and I had never even considered being an artist. The experiences I have had here, as well as the way the affordability of the city has allowed me time to explore and learn, are what have made me into an artist.
What other artists do you like, are there any other Berlin-based artists you are interested in?
At the moment I am very inspired by multidisciplinary artists who, like myself, primarily work with photography. Sophie Calle, Arvida Byström, and Jemima Stehli have all been inspirations for recent works of mine. As far as Berlin-based artists, I have been hugely inspired by Adam Broomberg this year, and have also had the pleasure of collaborating with him on a series of NFTs.
Have you ever been in a group show before?
Yes, a couple. I recently finished photography school, so my most recent group show was our graduation exhibition!
What's the experience like for you?
It can vary a lot, depending on who is setting up the exhibition and what the group is like. I love the collaboration and variety that are inherent to group shows, and opening night is always so satisfying!
How do you feel about exhibiting work online instead of in a space?
For me, there is no comparison between the two. Viewing work online is merely a preview of what the real work is supposed to be. When you exhibit work online you have no control over the atmosphere, the lighting, and the precise presentation of your work – and these things are all very important to me when showing my art. Exhibitions should be about the entire experience, with every detail considered for the audience. This is impossible with online exhibitions (well, at least until VR is widespread!).
What is your approach to pricing your work?
I consider the size, the edition, as well as if the work is part of a larger series or not.
What are you looking for from an exhibition, besides selling work?
It sounds simple, but just to show my work to people! Art, for me, is simply a method of communication. It is my way of creating and communicating things beyond words. To have other people see my work in person is the most important part of this communication.
Do you ever get nervous about showing work in an exhibition?
Yes, a little bit! I mostly get nervous in the lead-up, when I am making decisions about exactly how to present my work, or when I'm dealing with tight deadlines. Once everything is ready to go and it is out of my hands, excitement takes over.