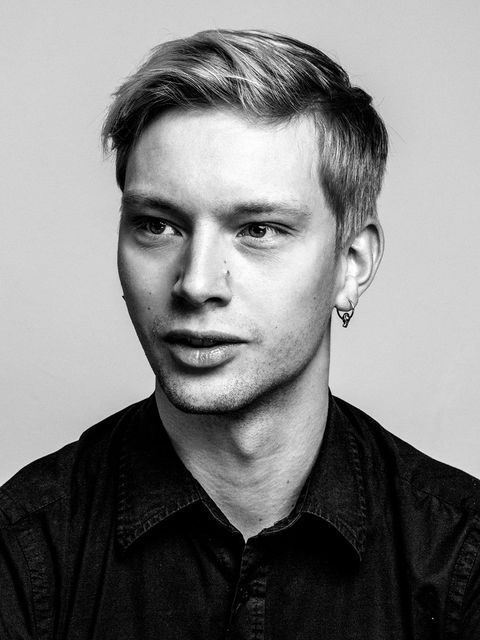 Biografie
RICHARD KRANZIN wurde 1990 in Berlin geboren, wo er als Filmemacher und Fotograf arbeitet. Mit der analogen Fotografie in seinem neuen Buch setzt er einen deutlichen Kontrapunkt zur gegenwärtigen Omnipräsenz der digitalen Fotografie. "The Three of Us" ist nach "Boys in Nature" und "Nudes" sein dritter Bildband.
RICHARD KRANZIN, born in 1990, is a Berlin-based filmmaker and photographer. With the analogue photography in his new book "The Three of Us", he sets a clear counterpoint to the current omnipresence of digital photography. Following "Boys in Nature" and "Nudes", "The Three of Us" is Kranzin's third photo book.
---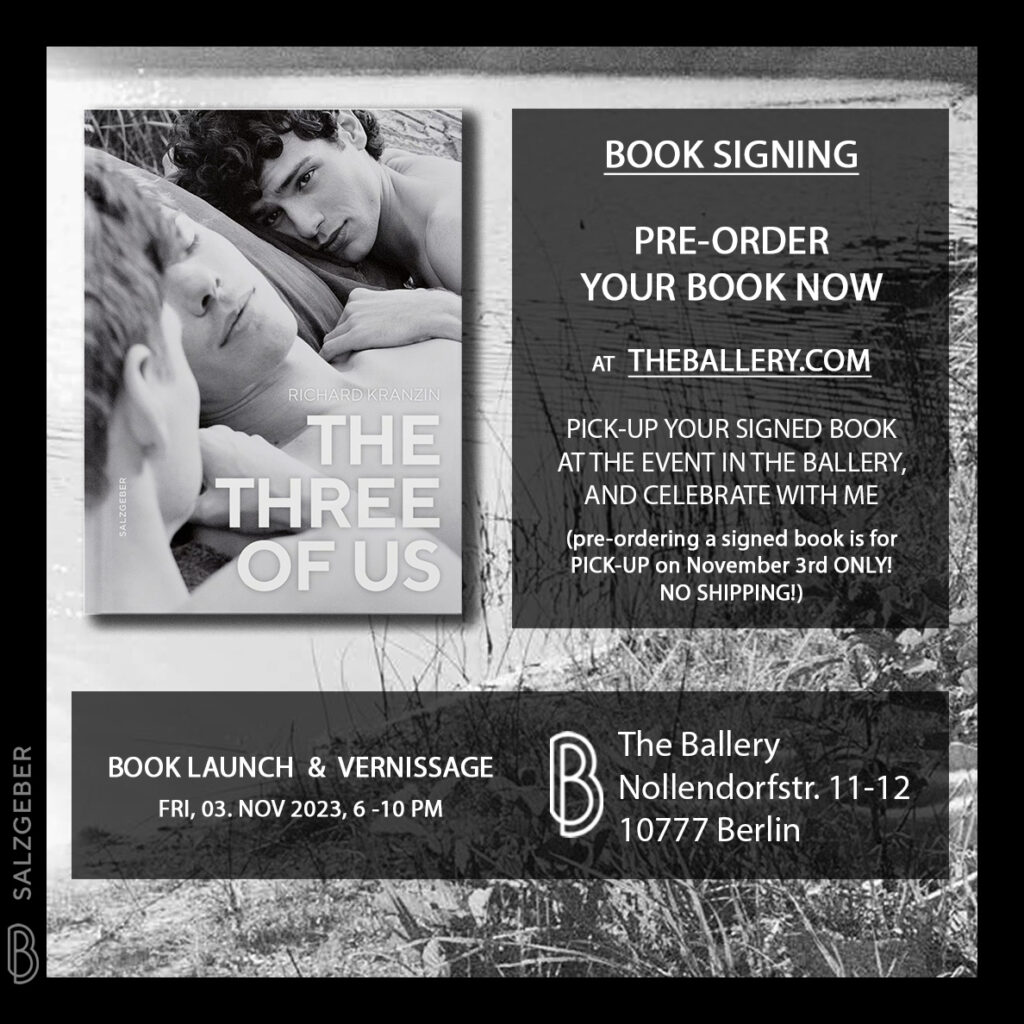 Richard Kranzin interview NEW
Deutsch unten
Opening: 3 November 6-9pm
What is going to happen on Friday 3 November and what can we expect to see?

The event will be my first book launch event ever, so it makes me very exited. I will be present to talk about my project and sign books. And there will also be a presentation of handpicked fine art prints, that are also for sale. All in all it should be an inspiring evening for everybody and a celebration of queer love.
Who is invited?
Everyone is welcome. I will be happy to meet people who already know my artworks and want to support me, but also new people to find out their opinion.
How much does the signed book cost?
It will be sold for the retail price of 60 euros including signature, pick up at the event only. It's an exclusive The Ballery event deal, since a signed book normally would cost more, if ordered later.
How can people get a signed copy?
Buy online in the Ballery Shop or in person on 3rd November.
I will also be present on 4 November 1-5pm to sign for those who can't come on 3rd November.
What is this project all about?
The inspiration really came from my love for idyllic nature and nostalgia. It's the contrary to big city life. A story about discovery of the beauty of nature and of life, and celebration of the uniqueness of love.
How many printed works will be on display and how have chosen what to produce for collectors?
There will be 14 brand new artworks on display. They measure ~30x40cm paper size and framed in 40x50cm gallery quality frames. The prints are an edition of 3. I chose those photographs because they stand out as single pieces, that are able to unite the themes of the project in just one picture. Some of the artworks will also tell a wider story if you hang them next to each other and give each photo a separate storytelling aspect.
This is your third book, how does this book differ from the first two?
The unique thing about THE THREE OF US is the storytelling aspect. My cinematic thinking really came to the front here. It combines the style of my first book BOYS IN NATURE, with the intimate observation in my second book NUDES. It is also my first photography project that concentrates on only three protagonists and their interactions.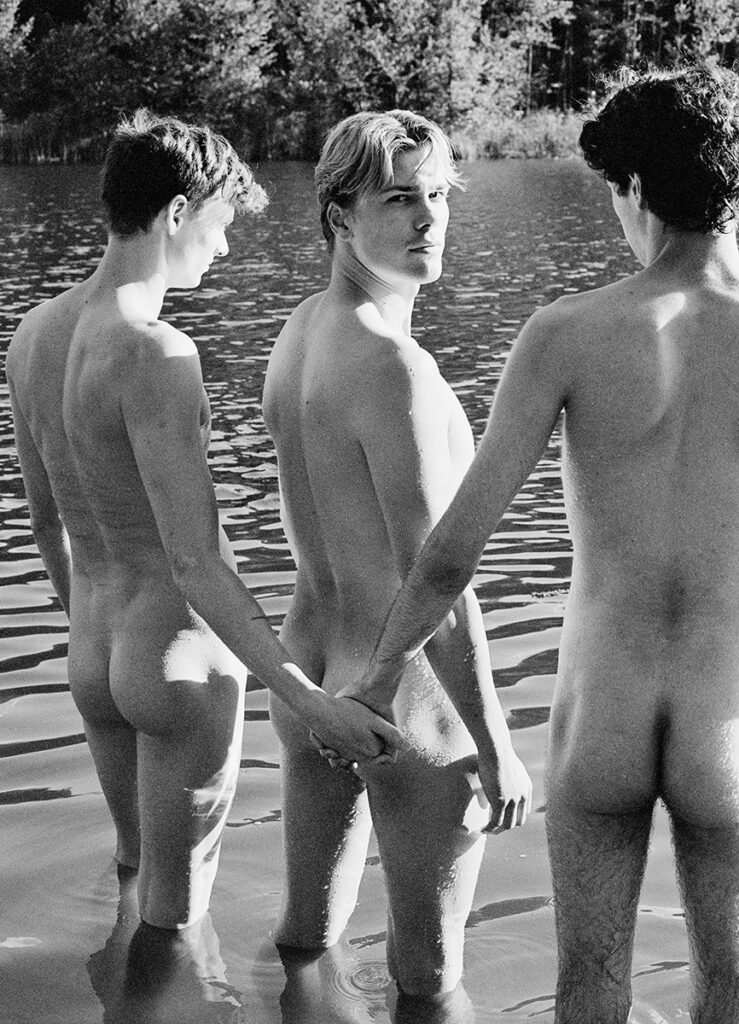 GERMAN
Was erwartet uns am 3. November?

Das Event ist meine erste Buchstart-Feier und ich bin schon sehr gespannt. Ich werde vor Ort anwesend sein, um über mein Projekt zu sprechen und Bücher zu signieren. Es werden außerdem handverlesene Kunstdrucke ausgestellt, die auch zum Verkauf stehen. Es soll ein inspirierender Abend für alle werden und eine Feier der queeren Liebe.
Wer ist eingeladen?
Jede/r ist eingeladen zu kommen. Ich freue mich Menschen zu treffen, die meine Fotografie bereits kennen und mich unterstützen wollen oder erst neu auf mich aufmerksam werden.
Wieviel kostet ein signiertes Buch?
Die signierten Bücher werden auf dem Event zum Einkaufspreis von 60 Euro verkauft. Das ist ein exklusiver The Ballery Deal, denn wer erst im Nachhinein ein signiertes Buch erwerben möchte, wird etwas mehr zahlen.
Wie können wir ein signiertes Buch erwerben?
Es kann online im Ballery Shop zur Abholung vorbestellt werden, oder am 3. November direkt vor Ort gekauft werden.
Ich werde auch am 4. November zwischen 13-17 Uhr vor Ort sein, um für alle persönlich zu signieren, die am 3. November nicht kommen konnten.
Worum geht es in deinem neuen Projekt?
Die Inspiration schöpfte ich aus meiner Liebe für idyllische Natur und meiner Nostalgie. Das Projekt ist ein Gegenstück zum hektischen Stadtleben. Eine Geschichte über die Entdeckung der Schönheit der Natur und des Lebens und eine Feier der Einzigartigkeit der Liebe.
Wieviele Kunstdrucke werden ausgestellt und wie hast du dich für die Kollektion entschieden?
Es werden 14 Einzeldrucke ausgestellt. Sie messen ca. 30x40cm Papiergröße und sind in 40x50cm Galerie-Rahmen gefasst. Alle Drucke wurden in einer Edition von 3 angefertigt. Ich habe diese Motive gewählt, da sie für mich als Einzelmotive herausstachen und gleichzeitig das gesamte Thema des Projekts in sich vereinen. Einige der Drucke ergeben auch eine Geschichte, wenn man sie nebeneinander hängt, und so beschreibt jedes Einzelbild ein eigenes Kapitel der Gesamtgeschichte.
Dies ist dein dritter Fotoband. Wie unterscheidet er sich von den vorherigen?
Das neuartige an THE THREE OF US ist der erzählerische Aspekt. Mein filmisches Denken stellte sich hier in den Vordergrund. Das neue Buch kombiniert die Stilistik aus meinem ersten Buch BOYS IN NATURE, mit den sehr intimen Beobachtungen meines zweiten Buchs NUDES. Es ist außerdem mein erstes fotografisches Projekt, dass sich nur auf drei Protagonisten und ihre Interaktion konzentriert.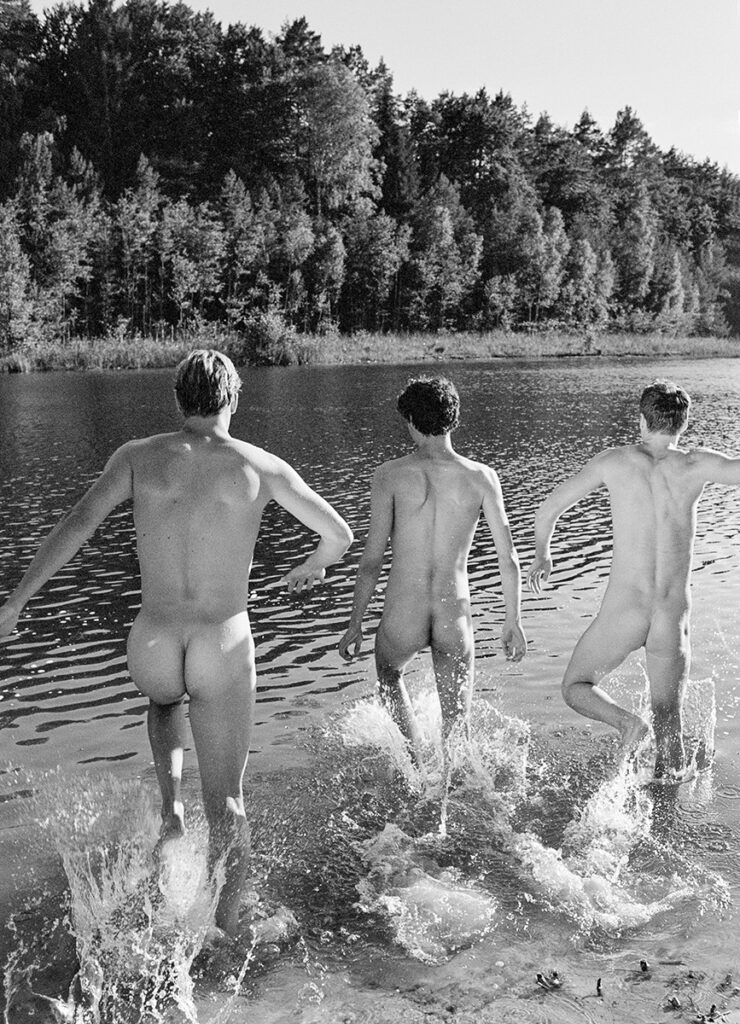 ---
---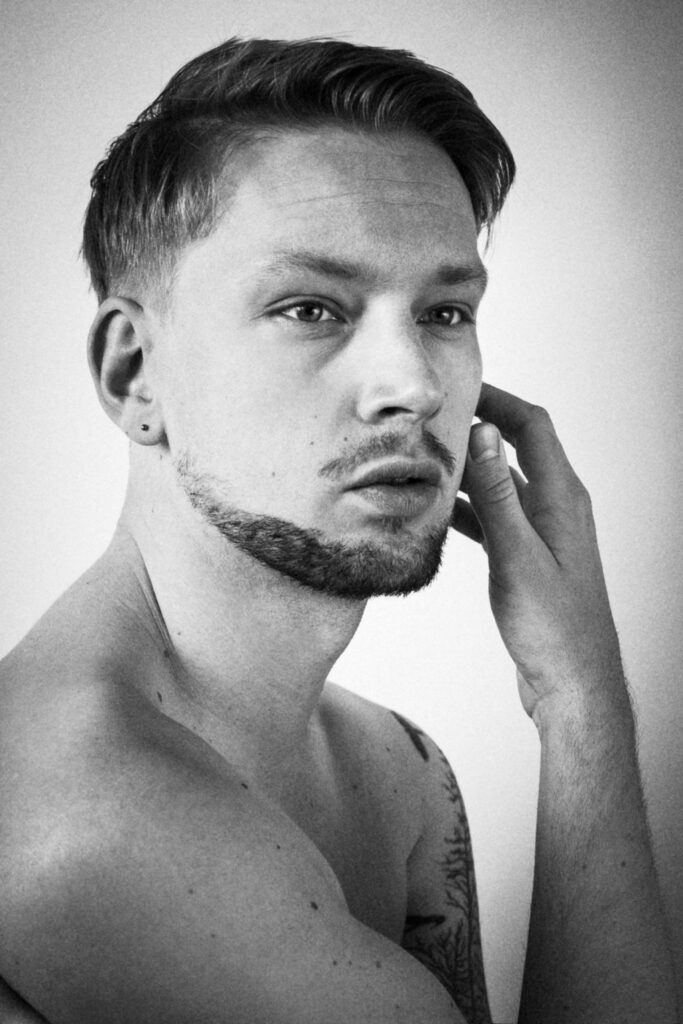 Interview Richard Kranzin – May 2023
Where did you grow up?
(East) Berlin, Friedrichshain/Lichtenberg, my fathers family are all Berliners, my mum came to Berlin from a small town close to Poland.
Where do you live now?
Still in East Berlin. In the area where I actually grew up. And the hospital where I was born is kind of on my street. Family and friends still live close by.
Have you lived outside of Germany?
No, never. I actually travelled a lot in my early 20s, when I was modelling, and stayed in Milan, Paris, or London for some weeks. But I never truly lived there. The wish to experience a different lifestyle in another country just came up a while ago. So I guess I won't stay in Berlin forever.
Do you think that living in Berlin has shaped your work?
Thinking about it, maybe it did. Being born here and living here my whole life, I saw Berlin from new perspectives in each state of my life and the city also changed a lot. The older I get the more outsider I feel in this city. It's like the pace of the city is too fast for me. Berlin was always big, but as a child it also felt like my home. The small parks in the area I lived in were my playground. The bakery at the corner, the school just 5 minutes by foot.
It somehow felt like a small town for me, with the bonus of just taking the subway, to go to great theaters, cinema, museums. Even as a teenager I still created my own safe space around me. Close friends from school, some regular bars in the area, one or two gay clubs for every now and then, and always spending my free time creating something artful with my friends – we filmed silly music videos and short films even before Youtube or TikTok came up. I am a dreamer and more of a thoughtful mind, and never was interested in techno or drugs, which Berlin became famous for. Since my mid 20s I felt like this safe space didn't withstand anymore. I needed to grow, but everything around me grew faster. The city became more and more artsy, extravagant and international. Sometimes I just felt crushed by the visual overload and competition of art in Berlin.
So it took me a while to see that I didn't choose Berlin to live an exciting life or to express myself in a new way, like so many people did and moved here. It's just my home town. It's not supposed to define my character or how extraordinary my creativity needs to shine. So I kind of went back to find my peace in simplicity and purity. – Maybe my way of seeing beauty is way more nostalgic than futuristic. Maybe my art is very contrary to what you would think of from a Berlin artist. But maybe that is what my restless home town Berlin made me.
Which are some of your favourite artists?
I love the work of Herbert List, Bruce Weber, Helmut Newton – from which I draw most of my inspiration. But also authentic and controversial artists like Larry Clark, with his films and photos, really inspire me to create something relatable and not to stay quiet about taboo themes.