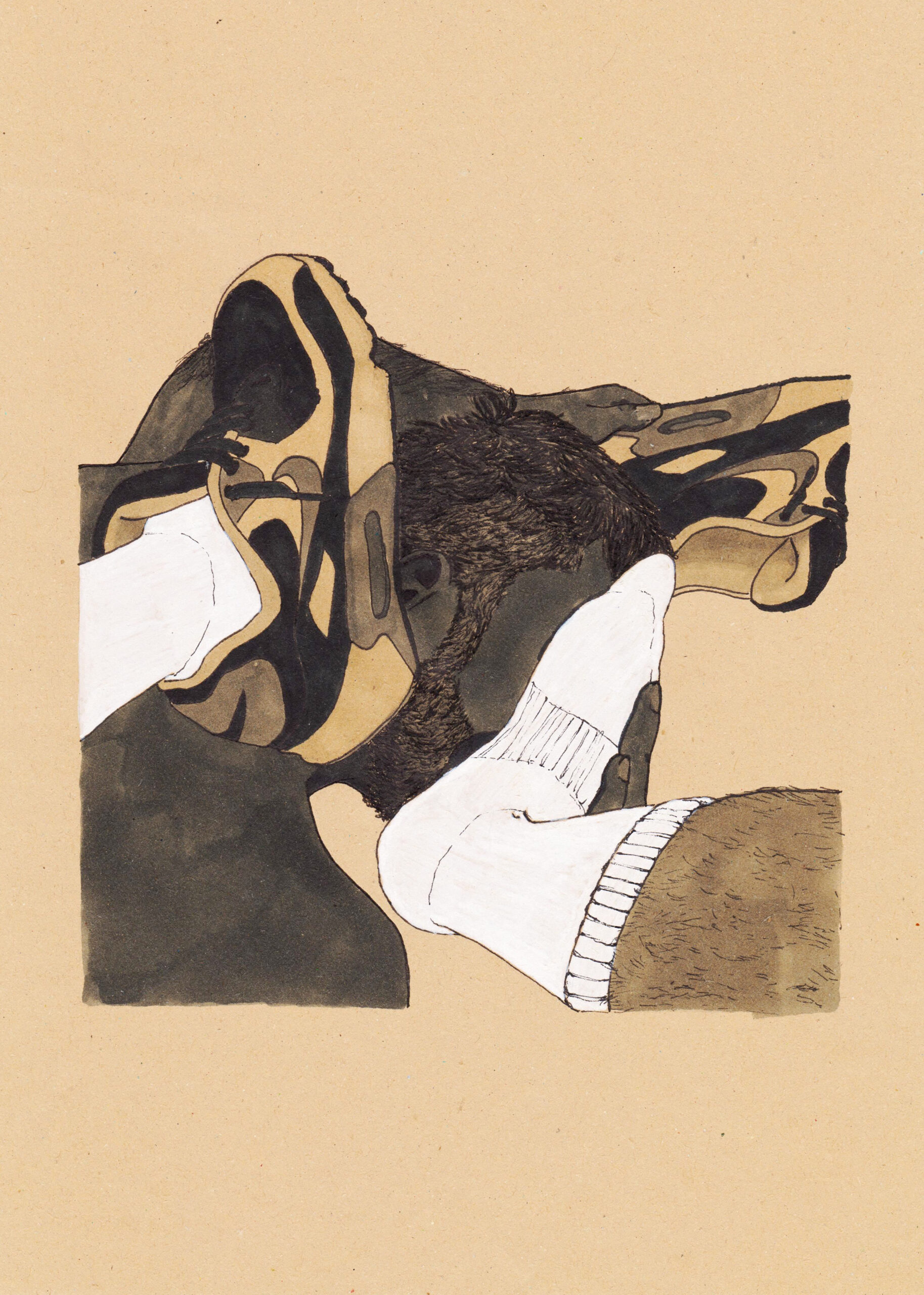 Artist Interview: André Schubert
The last interview I am sharing today is with André Schubert. We are pleased to have André in the exhibition which opens this weekend! 
What is your background? Perhaps you could briefly introduce yourself and your practice?
I didn't study art, design or anything similar. I work as a social worker in Germany in the social welfare system and supporting people with mental health issues, drug addiction and other disabilities. Nevertheless, I have been drawing since I could hold a pen. When I was 16, I started professional education in a fashion school in Frankfurt / Main and became a tailor. I have always improved my drawing skills and preserved my creativity. But an internship in a marketing agency showed me that I could not be freely creative like I wanted to be and that's why I skipped my plan to work in the creative industry. Therefore, I studied Social Work (B.A.) in Görlitz/ Saxony. After my study, I started to work in Berlin and began to show my work on Instagram. Friends and followers encouraged me to be part of the Pop Up exhibition of The Ballery last year. I am new to all this and lucky to have the chance to show my work in a gallery.
Usually I use pens, markers and pencils for my illustrations. The inspirations form my work comes from the different types of social media, magazines, when I am out in Berlin or what I come across.
Can you tell us a bit about this work?
I love to draw guys who are having sex, pose in an appealing way or do something like my work shows. The current work is a series of similar images. It's a detail of an interaction of two person who enjoy their fetish. It's very explicit and shows a guy who enjoy to sniff feets, socks and sneaker. 
I like to let the viewers create their own story from the pictures and want to capture their inspiration/fantasy.
What does 'fetish' mean to you?
I think I don't have a fetish. For my understanding fetish is more than just sex or wearing a harness on a techno party. It's a variety of several material, actions, dressing and not necessarily linked to having sex. Wearing a leather or rubber suit may have a sexual connotation for the wearer but not implicate the desire for sex. Regardless of that I don't have a fetish myself, I appreciate drawing it.
What made you apply for this call in particular?
I saw the announcement on Instagram and my boyfriend as well as other friends encouraged me to submit a work for the exhibition. Last year I was part of the pop up exhibition at The Ballery and I thought one of my latest works could fit with the fetish exhibition.
Do you feel the discussion around fetishes is a balanced one, or do you think it often comes from one particular perspective?
I guess there are more accepted fetishes like leather or rubber and I think those materials come to mind when it comes to fetish. It is often mistaken with BDSM and people who does not know much about fetish. However, you can also enjoy wearing just a leather outfit in a gay bar in Schöneberg without having the interest to find a sexual encounter. In my impression, other fetishes are more unaccepted or irritate people more.
Do you think Berlin has a unique connection to fetish, if so why?
Of course, it has. Berlin is a place where everybody can express fetish freely. Berlin is unique in Europe and you have many fetish themed bars, clubs and a big scene. The Folsom Street fair or the Berlin Fetish Week celebrate it. Even in Berlin's history it has always been a place for an extraordinary scene of fetish and artists – for everyone who is a bit different than the rest and wanted to show it without any discrimination. Unfortunately, there is an up rise of discrimination and violence against queers, lgbti+ and to others who are not conforming to the norm.
What are you looking for from an exhibition, besides selling work?
To connect with other artists, get inspiration through other works and enjoy art.
Have you ever shown at The Ballery before?
Yes, last year and it was my first exhibition. I was happy to get the chance to show my art in public.