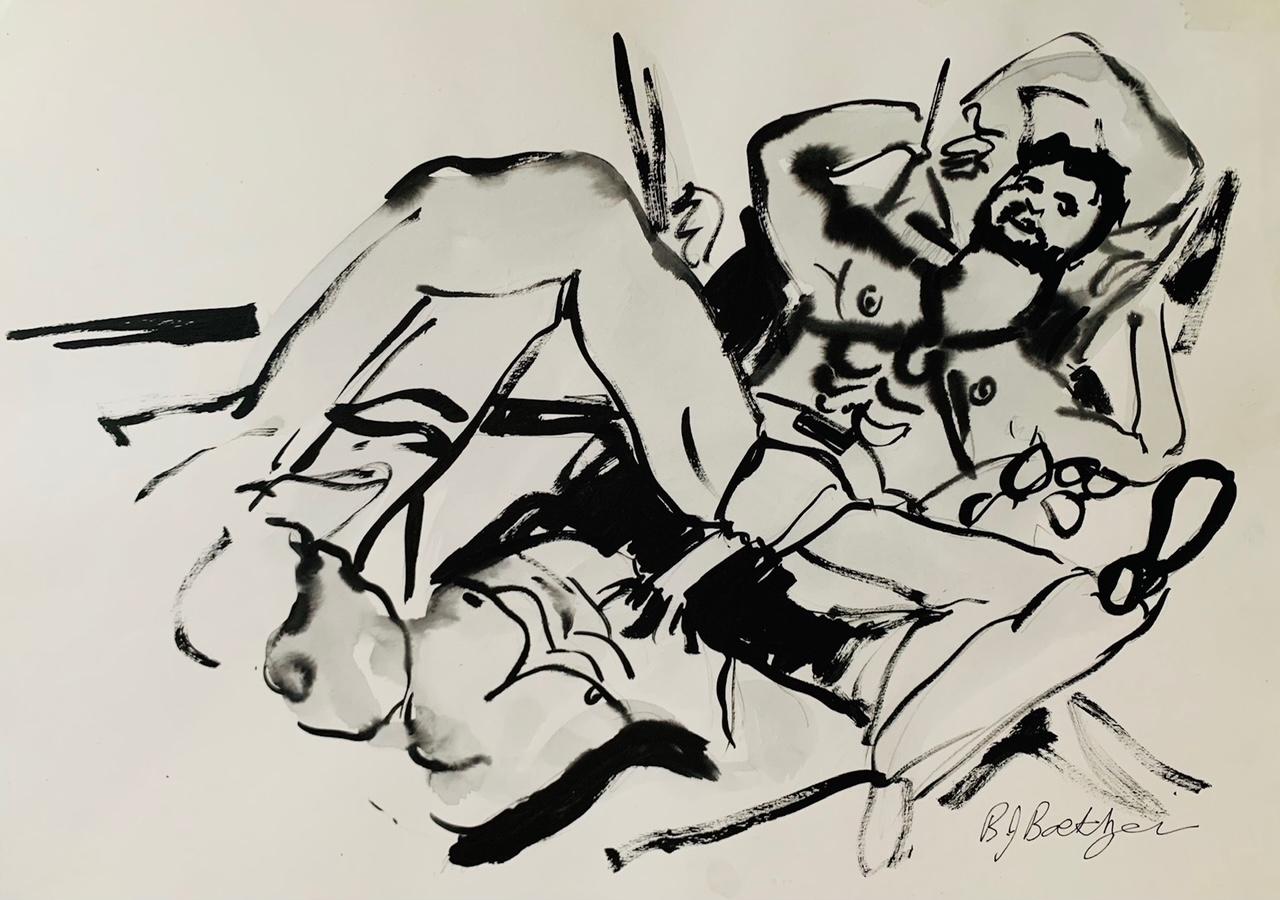 Artist Interview: BJ Broekhuizen
We are really pleased to have BJ Broekhuizen featured in our group exhibition which opens in just a few days time! Take a look at this interview and come along to The Ballery this weekend to see this work, and lots more from all the talented artists taking part.
What is your background? Perhaps you could briefly introduce yourself and your practice?
I am originally from Cape Town, South Africa, I lived in London before moving to Berlin last year. I work mostly in mixed media on paper and canvas here in my studio in Schöneberg. 
Can you tell us a bit about this work?
"Getting In The Mood" is an ink on paper drawing. It is a sensual erotic moment of two men driven by animalistic instincts, captured on paper.
What does 'fetish' mean to you?
Fetish to me means the fantasy that comes with sex.
What made you apply for this call in particular?
Leather, rubber and sportswear fetishes are part of my daily lifestyle and when I saw the word 'fetish' in the open call I didn't even think twice about entering.
Do you feel the discussion around fetishes is a balanced one, or do you think it often comes from one particular perspective?
Of course you will always have your alpha male dominant that wants to bring their opinion to the front table but I believe over the past year or so the balance have increased more from the neutral-gender/trans community raising their voice in human rights and values and equality which I believe still needs to be pushed louder. 
Do you think Berlin has a unique connection to fetish, if so why?
Totally, Berlin is one of the best cities of the underground club scene, techno, Berghain, Snax and the list goes on.. Its a place that provide individuals to live out their sexual fantasies.
How do you feel about exhibiting work online instead of in a space?
I feel super positive about online presentations especially in this new world order where the concept of working from home is becoming more predominant thus people have more time to spend online. 
What are you looking for from an exhibition, besides selling work?
Besides making money from the work, I think human connection and interactions, and behaviour of people will excite me the most.
Do you ever get nervous about showing work in an exhibition?
There will always be a small part of me that is nervous but I think the excitement of the show will overpower it.
Have you ever shown at The Ballery before?
No, never shown at The Ballery before and I am excited and honoured to be part of the fetish exhibition 2021. Thank you.
https://www.bjbroekhuizen.com/