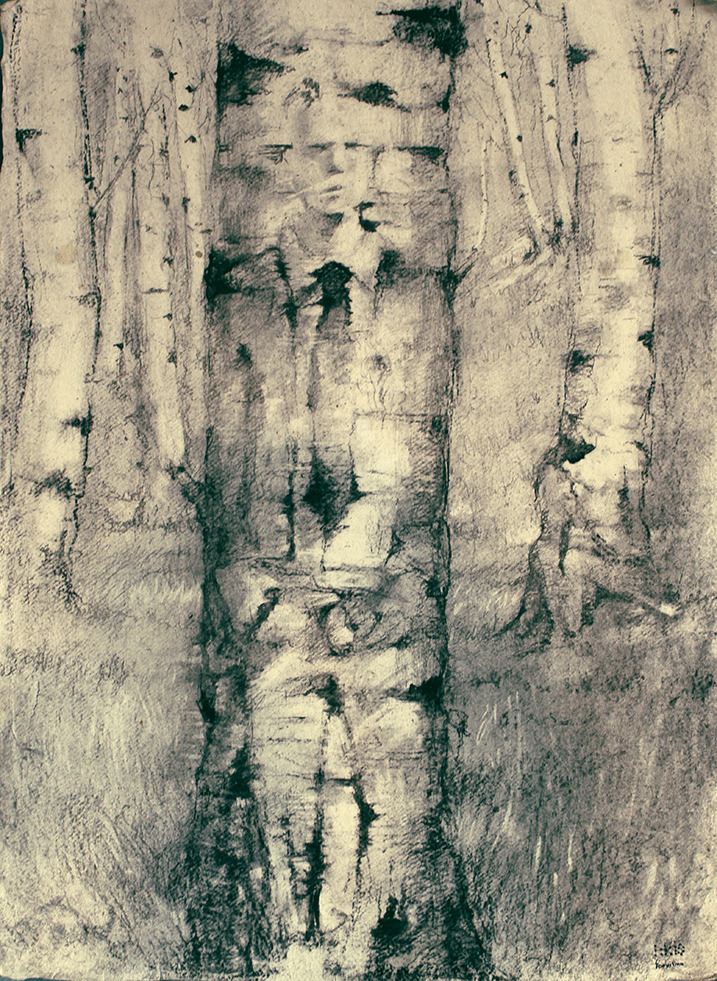 Artist Interview: Forvitinn
Today I'm sharing an interview with the artist Forvitinn, who is showing the piece 'Birke' at the first Pop-Up Show! You can take a look at more of Forvitinn's work through the links below the interview.
What is your background? Perhaps you could briefly introduce yourself and your practice?
My name is Aris Chantzopoulos. I am from Greece, living in Berlin for the last 10 years. I am a visual artist, musician and painter. I have been performing live for my solo music project, composed music and performed for dance theatre/theatre pieces, and directed video clips and exhibited my paintings in solo and group exhibitions.

Have you shown any work at The Ballery before?
Not yet!

What made you apply for this call?
I have seen a couple of exhibitions there and I love the space, plus I was sure of the quality of the artists that would participate.

Why did you choose to submit the work that you did?
It's a very representative piece of my work generally.i love creating illusions. I love dark fairytales, hybrids, and nature. It's my own mysterious world/forests visible in this work.

Can you tell us a bit about this work?
This piece is an illusion. In a forest of birch trees a figure of a peeping tom is revealed plus a sexual scene at the background. This piece is part of my solo exhibition: birke vol.ll / the watching tree. Inspired by birch trees.
Has it been shown before?
Yes at the cell 63 in a solo exhibition in Berlin, also for my porcelain pieces collection
at chrome store Berlin and 48 Neukölln.

What are your biggest influences?
Nature, music, creatures, hybrids.
In which ways has living in Berlin shaped your work or practice?
It has made it more sexual and more dark.

What other artists do you like, are there any other Berlin-based artists you are interested in?
Berlin artists are the drag queen hungry, also Steve Katona, nils frahm, heartthrob, costanza macras, and many more that don't come to my mind right now.

Have you ever been in a group show before?
Yes, several times in Athens and Berlin.

What's the experience like for you?
I love being a part of other creative spirits, it feels like home.

How do you feel about exhibiting work online instead of in a space?
I really need the space to communicate deeper emotions. Online is sth smaller to me, but quite important for commercial reasons.

What is your approach to pricing your work?
Depends on my feelings and connection to an artwork, plus the percentage a gallery is receiving from it.

What are you looking for from an exhibition, besides selling work?
To invite people into my world. Normally a world that I can't express otherwise.

Do you ever get nervous about showing work in an exhibition?
No not at all, I feel happy.

https://mytwinpines.tumblr.com/