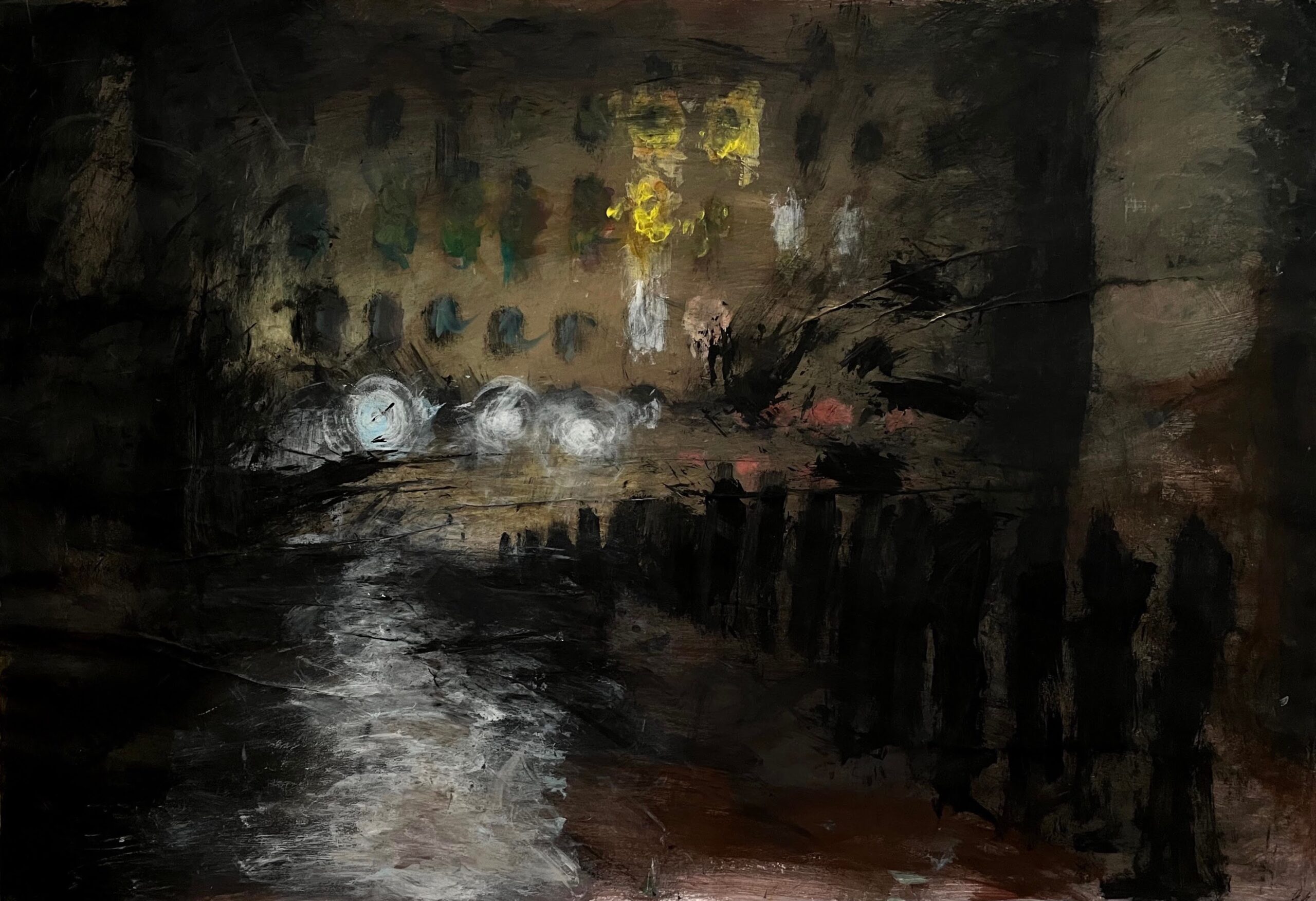 Artist Interview: Maria Möller
Today I'm sharing an interview with the talented Maria Möller, who is showing her work Berghain at the first Pop-Up Show, which opens to the public today! 
What is your background? Perhaps you could briefly introduce yourself and your practice?
Hello!!! My name is Maria Möller, living and creating in Berlin, Germany. In order to develop myself artistically, I completed a Bachelor of Arts in fashion design after studying sociology and philosophy for two semesters. I am currently a supervisor for people with disabilities and have always had the need to support people in coping with certain topics. In my opinion, art can help to deal with certain emotions, thoughts and experiences. In order to combine my creative and social fields of interest, I would like to start my master's degree in art therapy from next year onwards. In my mostly abstract or abstracted paintings, I deal with my experiences, emotions and thoughts.
Have you shown any work at The Ballery before?
I haven't shown any work at the Ballery before. It is now my first time and I am really excited!
What made you apply for this call?
Very good friends of mine recently organized an event at the Ballery. In the week after, one of them forwarded a post on Instagram "Call for Artists" that caught my attention. I've wanted to take part in an exhibition for a long time and I've been waiting for the right moment. When I saw that post, I felt that now was the right time.
Why did you choose to submit the work that you did?
Although the painting was created years ago, I chose the painting "Berghain.". It describes our club culture, which became basically non existing during Covid19. We all had to learn what it means to live without museums, dancing in a shared place, meeting new people and so on. Things changed drastically starting with the spread of the virus. With the virus came fear and isolation. Connecting with other people was not as easy as we were used to. I am sure that we all are looking forward to an end of these times where fear is spreading and finally reconnect!
Can you tell us a bit about this work?
Even though the place has always been controversial – the door policy is one example – I still believe it is a place where many people enjoy a piece of freedom, acceptance and community. After a magical weekend with great friends and amazing energies, I had the urge to immediately start painting and processing my experiences and emotions. This impatience of having to queue in cold dark nights. Maybe being rejected. Music, a piece of freedom and a loving community represented with bright colours coming from inside the building, promising a magical night that is about to happen. That light also is a representation of hope for equality and being accepted, no matter where you come from or how you look. Of course Berghain not only is a place to see that light but also to face our darkest demons and everything in between.
Has it been shown before?
This painting has not been shown before in an exhibition, it has been on the walls of a good friend of mine for a long time though. 
What are your biggest influences?
My biggest influences for sure are my friends, family and the experiences I have had so far. The magical community I am looking up to and feeling so empowered to be surrounded by. Powerful personalities who all are truly fighters. Another influence for sure is my family. I learned a lot from my parents who were/are fashion designers / graphic designers / artists, as well as influences from my grandmother who is a silk painter. I have always been lucky to be surrounded by art. 
In which ways has living in Berlin shaped your work or practice?
Living and creating in Berlin definitely has its ups and downs. Berlin gave me a lot of inspiration and influences, for sure showed me some dark places too.
What other artists do you like, are there any other Berlin-based artists you are interested in?
Jackson Pollock, Gerhard Richter, Anselm Kiefer, Albrecht Dürer, Alexander McQueen, Emil Schumacher, Paul Weiner, Kyte Tatt, Antoni Tàpies, Tim Burton, HR Giger, Salvador Dali
Have you ever been in a group show before?
During my fashion studies I have had group shows like fashion shows.
What's the experience like for you?
In fashion shows there are a lot of things which can go wrong and which have to be done last minute, so it is non-stop nerve wrecking. Now it's the first time presenting something else than fashion but I expect it to be as exciting.
What are you looking for from an exhibition, besides selling work?
I am definitely really excited for this opportunity to meet new people. Also places like exhibitions are a great place for lots of inspiration.
Do you ever get nervous about showing work in an exhibition?
VERY! I like and dislike my paintings a hundred times back and forth so I am never sure what reactions to expect when presenting my artworks to other people. 
https://www.instagram.com/maria_mllr_art/