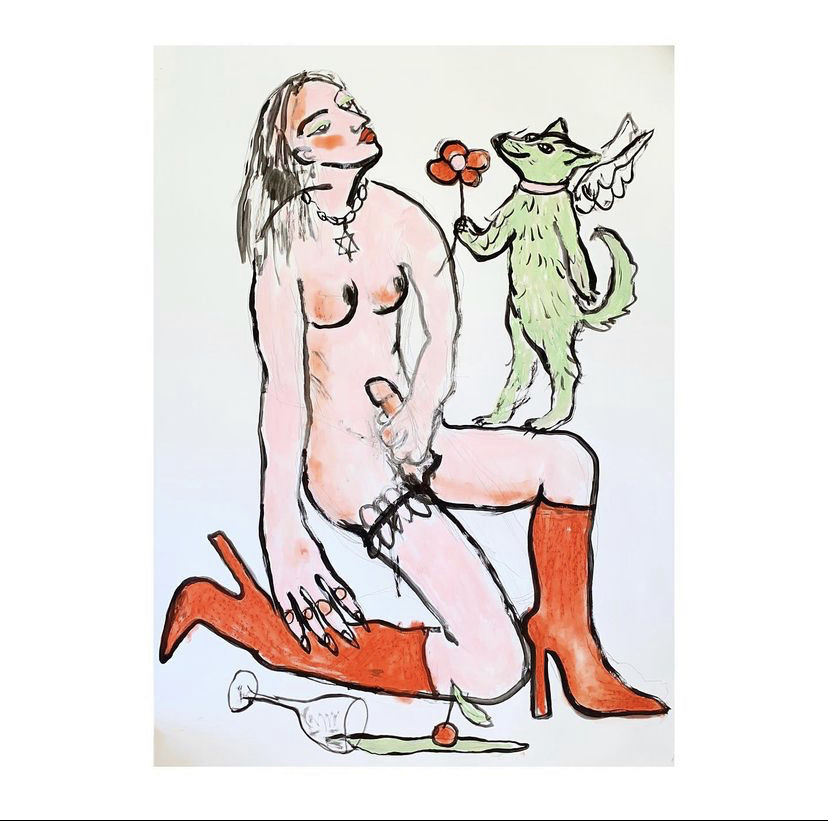 Artist Interview: Angelina Mass
Today I am sharing another interview, this time with artist Angelina Mass, who we are very pleased to have taking part in the upcoming fetish exhibition! 
What is your background? Perhaps you could briefly introduce yourself and your practice?
I was born in Belarus in the city of Minsk 26 years ago. I've always loved to draw and paint. At an early age, my parents took me to a psychiatrist when they noticed that I often draw genitals and so on, which is normal for children.  I think it certainly influenced my art. 
Can you tell us a bit about this work?
I had a strong psychological connection with my already deceased dog – Yefim. I think he came to us when I was 6 years old, and all my childhood I considered him my brother. Yefim was present at all stages of my growing up, both in body and spirit. He died under the wheels of a car, like Pasolini, completely dishonestly and at the wrong time, he was 15 years old.
What does 'fetish' mean to you?
My habitat. Natural habitat.
What made you apply for this call in particular?
The topic is very interesting for me, and I am also interested in showing my picture to other people.
Do you feel the discussion around fetishes is a balanced one, or do you think it often comes from one particular perspective?
 I think that everything in our world is enclosed in frames and boxes. no matter how much we don't want to admit it. The fetish is also in the gradation of "normal" and "disease".
Do you think Berlin has a unique connection to fetishism, if so why?
Here you can not be afraid to stick out a little from under the frames or just break the frames. Here we can speak the same language with our fetish, and sometimes we will have a good conversation with other people.
How do you feel about exhibiting work online instead of in a space?
All methods are effective in their own way, but each has its own pros and cons.
What are you looking for from an exhibition, besides selling work?
I'm looking for experience, new steps.
Do you ever get nervous about showing work in an exhibition?
No, never. On the contrary, I feel joy and relaxation  This is as part of the process-its completion.
Have you ever shown at The Ballery before?
Never before.