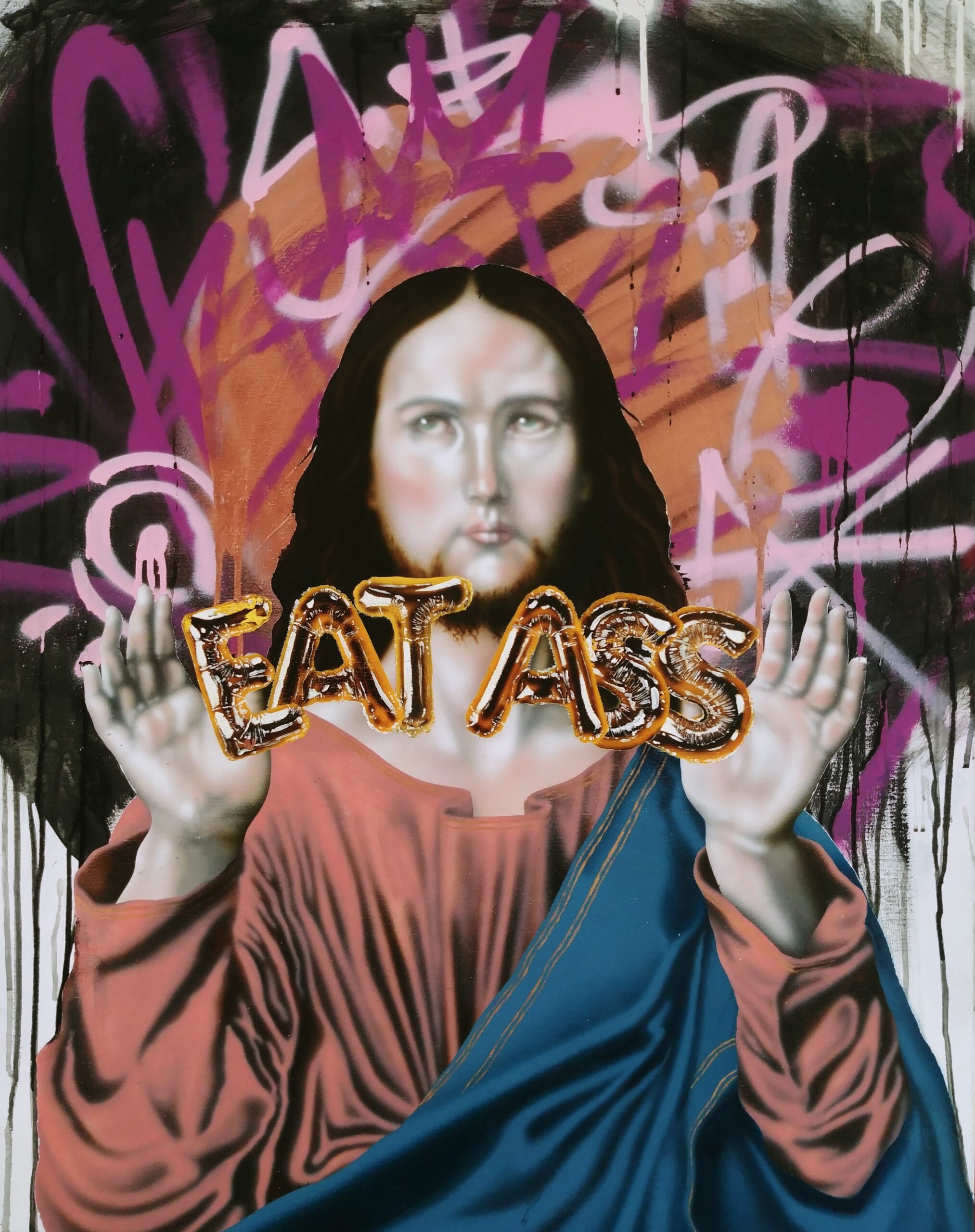 Artist Interview: CamilleTheodet
Today I am sharing an interview with Camille Theodet, an artist taking part in the second Pop-Up Show which opens Saturday 21st August! 
What is your background? Perhaps you could briefly introduce yourself and your practice?
I am Camille Theodet, a young French artist from the suburbs of Paris, France. I did Fine Art studies (bachelor) before entering a private school of Special effects makeup. After playing with different mediums and trying ways to express myself, it became clear that painting and drawing were the main mediums to be used.
I decided to move to Berlin in 2017, where I am now residing and working.
Have you shown any work at The Ballery before?
This is the first time.
What made you apply for this call?
I was already following the gallery for a while, and always thought "damn I also wanna be part of it someday" which is now the case! I like the gallery's spirit, but also its location in Schöneberg, I think this is a good mix.
Why did you choose to submit the work that you did?
This is one of my most recent artwork, which is also the first with which I have experimented with new elements that I am now using again and again in my practice. I think we can say that this has been a trigger for myself in terms of representations and techniques. Also, I do think that this work can fit the gallery's spirit well.
Can you tell us a bit about this work?
This work is part of a long series of paintings that I am working on since the end of 2020. This is the 11th painting of this series to be more precise (which count now 14).
I am influenced by the classics, dramatics, and religious paintings of art history. I am creating new senses from what already exists in those periods, and reuse pictorial codes to reinterpret them. By using a modern eye,  I propose a very sarcastic and ridiculous vision of what was considered sacred, by using contemporary techniques. I am working with airbrush painting, spray paint, metal paintings and acrylic.
Has it been shown before?
This will be the first time that the public sees it.
What are your biggest influences?
I really have a huge interest in religious art, in any period of time, in any form. This is almost an obsession. I can not stop myself from looking into it, trying to understand it, but mostly, just looking at it in a very different way, most of the time kinda twisted.
I am also very influenced by the street art, as well as erotic art, and the fetish scenes of Berlin. Berlin itself has been a huge influence on my work, and BDSM is a never ending source of inspiration, from the clothes, to the spirit, to the practice, to even the psychological meanings that can be behind it sometimes.
In which ways has living in Berlin shaped your work or practice?
I guess the spirit of the city, its atmosphere has influenced a lot of what I'm doing. The club culture, the fetish scenes are definitely part of what I do and want to share.
What other artists do you like, are there any other Berlin-based artists you are interested in?
Obviously, mostly religious art from different periods. I would say that the main artists I use my references from are currently Jean Auguste Dominique Ingres, Bouguereau, Fragonard, Boucher…
I use also several more modern references, the main being currently Tom of finland, which is becoming very important in my work, as well as Ludwig Seitz, Koons, NFN Kalyan, Ivan Alifan, Allison sommers etc
Have you ever been in a group show before?
Yes, a few. The current being a group show in Galleri Heike Arndt, Berlin Friedrichshain.
What's the experience like for you?
It's nerve wracking, especially for a person like me who can struggle with social contact. However, this is extremely interesting, and I enjoy being able to meet other artists and people who just want to share the same passion for art.
How do you feel about exhibiting work online instead of in a space?
I have tried both, and there are pros and cons. However, I do feel that a physical exhibition is still more interesting, as much for the artist as for the viewer who can experience the piece in its whole, and bring conversation in between them.
What is your approach to pricing your work?
I simply count the time passed on the painting, as well as materials and canvas.
What are you looking for from an exhibition, besides selling work?
The discovery of other artists' work, and the conversation with the public.