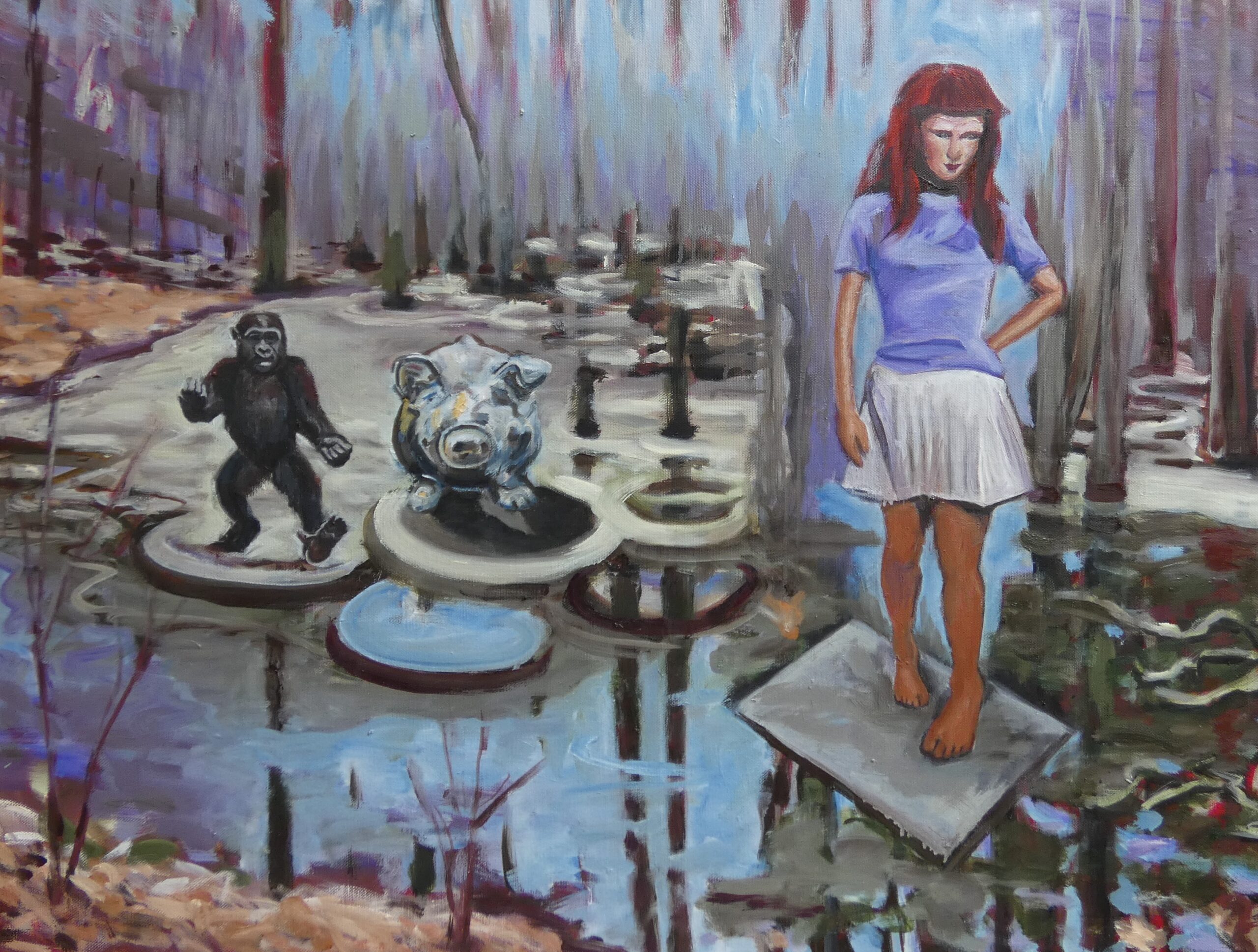 Artist Interview: Rolf Czulius
Here is the interview I did with Rolf Czulius, an artist who will be showing the piece 'Save or play?' in the second Pop-Up Show which opens Saturday 21st August! 
What is your background? Perhaps you could briefly introduce yourself and your practice?
Hi, I'm Rolf Czulius, Austrian painter, living and working in Berlin.
After my career as a dancer and actor, mainly for theatre in Paris, I started painting at the age of 40, first learning handcraft skills in drawing and painting in private lessons with russian artists in Berlin, then absolving a 5 years study for contemporary painting at Akademie für Malerei, Berlin, ending with a "Meisterschüler" in 2014. Ever since I did 2 solo and many group exhibitions.
Have you shown any work at The Ballery before?
Yes, it's the second time after last year.
What made you apply for this call?
I liked it last year and I'm happy to be part of the show again.
Why did you choose to submit the work that you did?
I wanted to show something recently finished, from this year.
Can you tell us a bit about this work?
I like to mix characters, objects, landscape, and abstraction together in a little absurd and illogical narration, a bit like scenery in a theatre. The doll in this painting is a citation from the fotografer Morton Bartlett.She's a member of the family of homemade children that he created in 1962-63. I often paint dolls – there's something almost but not quite human in them that fits well into a creepy, yet ironically playful atmosphere, that I try to create in my paintings. Therefore I adore Morton Bartlett's photos and I'm rendering homage to his fantastic work in this way. Is it more important, that I'm concerned about the preservation of nature, and is that the reason for painting an environmental of Brandenburg's "Sumpflandschaft" – tending to disappear – and a Gorilla that has never lost himself in there or is it more for painterly reasons to put some water in the painting because I like to paint water and the Gorilla is in a bit playful, nasty mood, at the same time dangerous and funny – (I love these oppositions) – that arranges the atmosphere that I want in the painting ? I also love to paint found objects, which in this case is the silver-couloured "Sparschwein" (so German, tending to disappear, too, for different reasons) in the middle of the scenery. Maybe there is a little from my Czech origins in this consideration of "talking" soulful objects, that destiny or hazard decided to bring by my way, and that change it's meanings, most likely in a metaphorical use in the painting …
Has it been shown before?
No.
What are your biggest influences?
Hieronymus Bosch (the delirium), Manet (the touch), Peter Doig (the painterly excess and atmosphere), Neo Rauch (the dreamlike, absurd enigma).
In which ways has living in Berlin shaped your work or practice?
In the most important way, through my art studies here and the artful atmosphere. I liked the not perfect undone leftover space that tends to make an artist's soul feel free and I regret that Berlin gets fucked up more and more by economical pressure that comes from Tourism and speculation on real estate.
What other artists do you like, are there any other Berlin-based artists you are interested in?
First part see question 7. Yes, there are …
Have you ever been in a group show before?
Many.
What's the experience like for you?
I love it. I love to meet the audience, people and the other artists. Painting is a lonesome egocentric practice, but it's nice to break and feel resonance – I'm not painting only for myself.
How do you feel about exhibiting work online instead of in a space?
My preference is clearly in the real space and the real painting online can be o.k. as a complement.
What is your approach to pricing your work?
As an emerging artist with no big name I consider it's appropriate to use factor 10-15, 10 for smaller 15 for bigger canvases (width + height x factor)
What are you looking for from an exhibition, besides selling work?
Publicity, social and human exchange.
Do you ever get nervous about showing work in an exhibition?
No, rather excited.