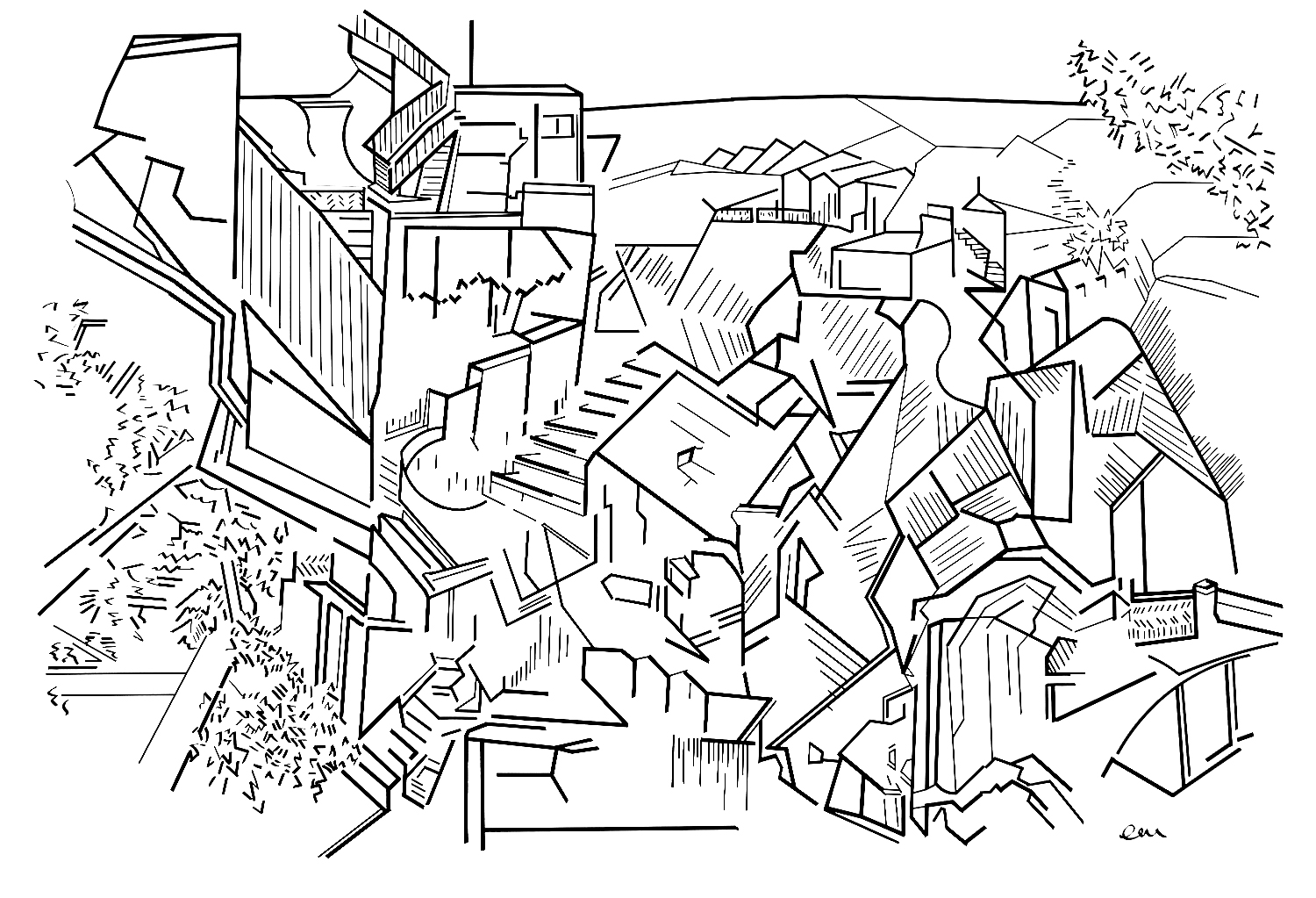 Artist Interview: Emeline Mottais
Today I am sharing another interview, this time with Emeline Mottais, who will be taking part in the second Pop-Up Show, opening next Saturday! Take a look at Emeline's work through the links below.
What is your background? Perhaps you could briefly introduce yourself and your practice?
I am Emeline Mottais, from France but living in Berlin for 9 years. I have been drawing since I was 7-8 years old. Then I developed a fascination for materiality and creation so when I grew up I wanted to study materiality in order to understand what is around us (materiality is everywhere). It is the reason why I have a scientific background on one side and a creative background on the other side. I also worked more than ten years in the architecture field, from where I took a lot of inspiration in my new series "angles, lines and forms".
I want to draw the forms which are all around us in order to give them a new place in our consideration. Indeed, when we see something beautiful, we are more conscious about the colors, the materiality,… but less about the impact of the composition and forms on our mind, and the place it has in our sensibility for "beauty". Through my art I let the public imagine its own colors, materiality, hearing, feeling,… or simply be aware of the composition created by those shapes, angles, and lines. I wish by this way to let the public be its own artist, and thus bringing a new dimension to what they are seeing.
Have you shown any work at The Ballery before? 
I exhibited in other gallery in Berlin and in one week in Athens – Greece, but it is for me a first time by The Ballery
What made you apply for this call? 
I love The Ballery! I discovered it by a French artist who lived in Berlin, a friend of mine, Anne-Bénédicte Girot. She exhibited in 2019 here and encouraged me also to present my artwork in galleries. The Ballery is also full of Berlin's feeling and I will love to see my large format on its walls.
Why did you choose to submit the work that you did? 
The Village represents really well my Series "line, angle and forms" : it is in the middle of an abstract/reality world, with a little bit of nature and a sensation to be in front of a village from the south of France. It also gives a holiday feeling that finally convinced me for this exhibition in August.
Can you tell us a bit about this work? 
This work represents my feelings when I drew it. The both sides of organization and discordance, reality/abstract, shape and light, solidity and fragility, the feeling to be lost but to have still a way to go away, the things we see and the things we imagine, all of this is for me represented in this artwork in a final composition I find beautiful.
Has it been shown before? 
It is my "new one" in this format, so no, it is for the first time in a Gallery.
What are your biggest influences? 
My biggest influences are the architects, nature, the painters, the sculptors, the philosophy, the history, the Bauhaus time and I think a little bit from Japanese culture.
In which ways has living in Berlin shaped your work or practice? 
I discovered myself in Berlin. I think I can say that. Before I didn't really know who I was. Berlin is for me the city of liberty. It gives us the feeling that all is possible and gives you the strength, the courage and the idea that all what you want to express in all existing ways is possible. And that nobody will judge it.
What other artists do you like, are there any other Berlin-based artists you are interested in? 
I love the work of the artists Kazuyo Okushiba, Pierre Soulages, Johan Gelper, Roman signer, I also like the work of Roberto Miniati, Maximilien Pellet, Pierre Bonnefille, and a lot of other one! In Berlin, without to speak about the well-known like Olafur Eliasson, I like what Izabela Nowak do (work on colors and forms with women), Pola Brändle, and the experimental music band Chinasky in space (mixing jazz and electro in a special way).
Have you ever been in a group show before? 
Yes, in the gallery "Studio Baustelle" in Berlin, by the Expo Metro 2020 in Berlin Mehringdamm, and digitally by Artboxproject in Zurich. From 6th to 12th August 2021 also in Athens.
What's the experience like for you? 
I don't really come from the "world of Artists" or "design". So I am not always comfortable at this kind of event. Otherwise I am always happy to be there, and come with friends so it helps me to be more relaxed.
How do you feel about exhibiting work online instead of in a space? 
For me, it is not the same at all. Especially because of this large format: the impression you have when you see it, is totally different when you see it real in front of you.
What is your approach to pricing your work? 
First: the feeling I have when I see the work finished, second: the time I spent, and third: the costs I had to invest.
What are you looking for from an exhibition, besides selling work? I would love to see people in front of my work, asking themself questions because they imagine themself in the village, and the colors, the materiality, the weather, the sounds around them, … I would love that
Do you ever get nervous about showing work in an exhibition? 
Actually not nervous but excited yes. And maybe a little shy but it depends on a lot of things. So, let's see.
https://www.instagram.com/emelinemottais/