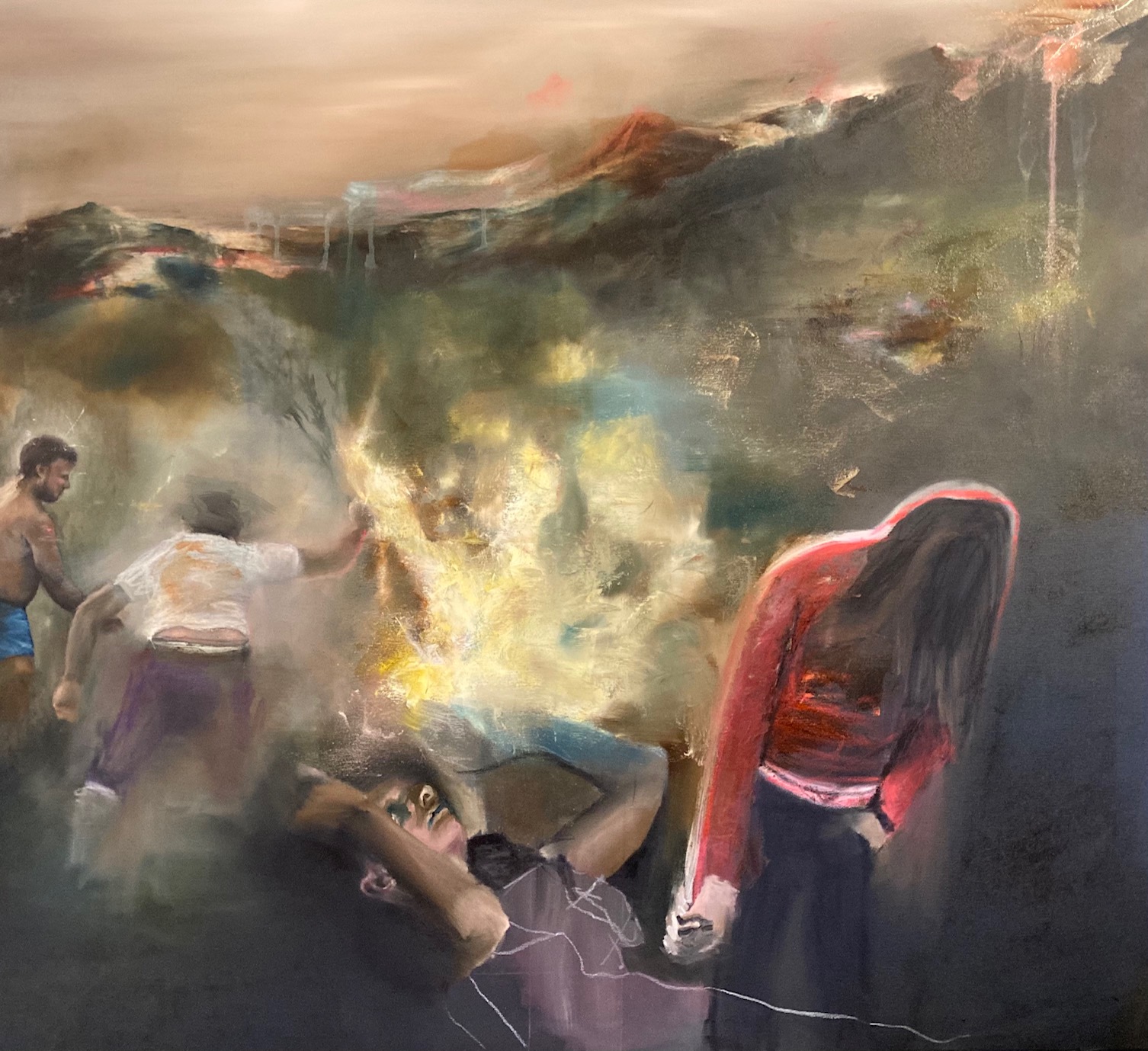 Artist Interview: Emmanuelle Wilhelm
Here is an interview with Emmanuelle Wilhelm, who we are pleased is taking part in the next Pop-Up Show! 
What is your background? Perhaps you could briefly introduce yourself and your practice? 

I'm Emmanuelle Wilhelm, a German/French, self taught painter based in Berlin, Germany. I exhibited in numerous group exhibitions and also in some solos.The past decade I was living and working more or less between Berlin and Tel Aviv. My artworks were created in both cities and even more so they are inspired by both places and its realities. Beside my own artistic practice I was assisting established artists for many years whereas now I am working as a scenic painter for film industries.
Have you shown any work at The Ballery before?

No I haven't. But I am happy to be part of the upcoming pop-up.
What made you apply for this call?

I like the Ballery's concept and the mix of established and less known artists. Also the fact that Simon Willliams is a dancer intrigued me, as dancing became an important element in my life the last couple of years. Lastly the artist's submission at Ballery's open calls are for free. Which makes the participation possible for artists that are struggling financially and that's very sympathetic.

Why did you choose to submit the work that you did?

It's my latest artwork.
Can you tell us a bit about this work?
I did this painting during corona winter 2020….and it represents the mood that I felt in Berlin at that time. It's called "seclusion".
Has it been shown before?

No, it is its première 😉

What are your biggest influences?

Daily life and its visual phenomenons.
In which ways has living in Berlin shaped your work or practice?

When I moved to Berlin in 2008 it took me some time to find confidence as an artist and to reestablish my practice on a regular basis. I was overwhelmed by the inflation of art and artists. I didn't know where to place myself within that jungle and I thought there is no need or urge or meaning, me making art ….this feeling of disorientation blocked me for some years but then somehow at some point the doubts were getting less dominant and I got back to my practice, stronger than before for sure.
What other artists do you like, are there any other Berlin-based artists you are interested in?

Yes, many… I don't know where to start. There are many artists and musicians based in Berlin that I am really fond of. And some of them are my friends.

Have you ever been in a group show before?
Yes.

What's the experience like for you?

It really depends. If it's well curated, and the participating art pieces melt into sth holistic, it can be a beautiful and even bonding experience. But it can also be the opposite.

How do you feel about exhibiting work online instead of in a space? At the moment I definitely prefer the latter because experiencing an art piece physically can be very powerful. But in times of social distancing it was a good option to keep on showing art. And maybe it opens undreamt of opportunities for the future….who knows…

What is your approach to pricing your work? It's always the same procedure (Hight (cm) + width (cm) ) x factor.

What are you looking for from an exhibition, besides selling work?

To view my work in a different space and context in order to reevaluate my artistic approach. And of course feedback!

Do you ever get nervous about showing work in an exhibition?

Less in a group show but in a solo exhibition yes, definitely.