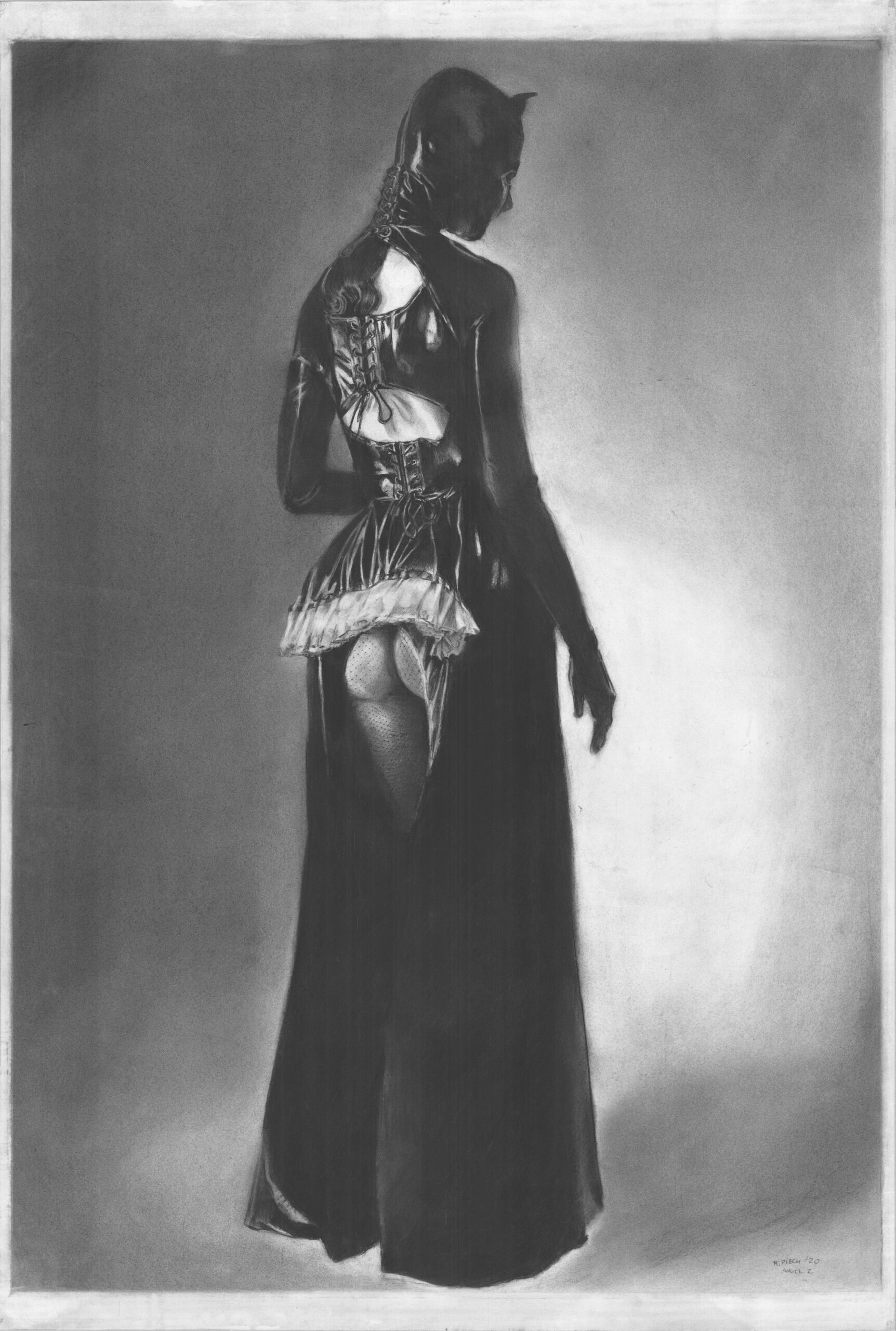 Artist Interview: Magdalena Piech
Here is an interview with Magdalena Piech, who will be part of the next Pop-Up Show opening this weekend! Take a look at Magdalena's work through the links below.
What is your background? Perhaps you could briefly introduce yourself and your practice? 
Hey, my name is Magda and I am a fine artist. I mainly work with graphite or charcoal and use myself as a model. I was educated at the Art Institute of Chicago and later in Berlin. I started my full time studio practice back in 2016 and I have been developing it ever since. 
Have you shown any work at The Ballery before? 
This is my first time showing at The Ballery and I am very excited! 
What made you apply for this call? 
I really like the vibe of this gallery; the artists, the collection of work, the space and the open minded visitors; it really seems like the right place for my work.
Why did you choose to submit the work that you did? 
I feel like this drawing has all the stylistic elements which are very representative of my work. It's bold, figurative and dressed in latex… I personally find it hard to ignore.
Can you tell us a bit about this work? 
I was always drawn to subculture and scientific illustration, that is probably the reason why I gravitate towards old school fetish aesthetic. I feel like engaging with any art is a very sensual experience and I hope that this drawing conveys that.
Has it been shown before? 
Yes, during my last solo exhibition… Unfortunately it did not see many visitors due to the first lockdown.
What are your biggest influences? 
At the moment I am a big fan of Michael Borremans and Nicola Samori.
In which ways has living in Berlin shaped your work or practice? 
Living in Berlin gave me a lot of freedom that I would not have in other places. It exposed me to many different life styles and philosophies which I did not know were possible before. It also gave me the opportunity to collaborate with many great photographers and discover the world of fetish modelling. 
What other artists do you like, are there any other Berlin-based artists you are interested in? 
Ana Bathe, Marie-Charlotte, Ted Titus, Soren Jahan, Paul Vogler…. there are just too many to name!
Have you ever been in a group show before? 
Yes a couple of times actually, both in Berlin and Chicago.
What's the experience like for you? 
At first I am always a bit stressed out with getting everything organized on time but I always look forward to the opening night where I get to mingle with an interesting crowd and have a good overview of what other artists are bringing to the table. 
How do you feel about exhibiting work online instead of in a space? 
It is bittersweet. On the one hand it is an amazing opportunity to show your work to a greater audience, on the other hand however, I find digitizing handmade work takes away from its original quality.
What is your approach to pricing your work? 
Very standard size formula used by many other artists. 
What are you looking for from an exhibition, besides selling work? 
I am honestly excited to just be showing my work again after a long period of inactivity caused by the lockdowns.
Do you ever get nervous about showing work in an exhibition? 
Always a little bit. 
https://www.instagram.com/mpiech.art/