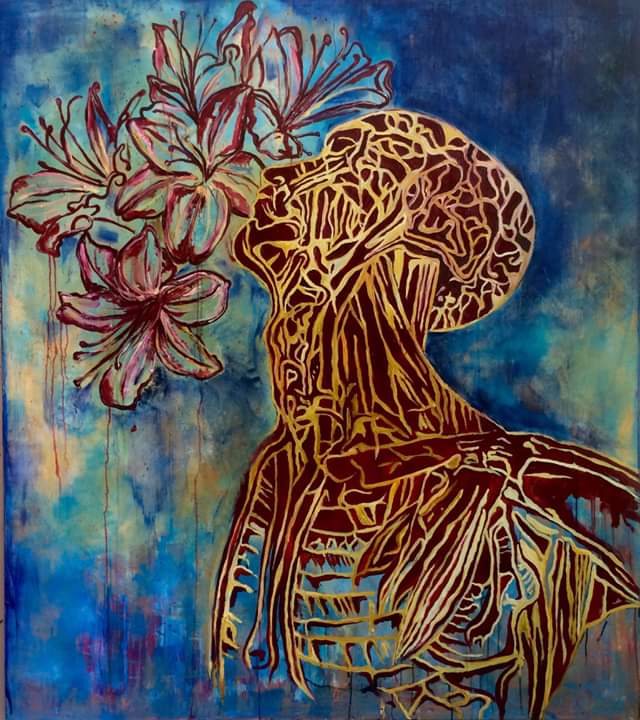 Artist Interview: Marta Stratskas
The penultimate interview! This time with Marta Stratskas, who we are pleased is participating in the second Pop-Up Show! Come to the exhibition this weekend to see Marta's work, or you can take a look on our online shop.
What is your background? Perhaps you could briefly introduce yourself and your practice?
I am Marta Stratskas. I graduated from the Estonian Art Academy in painting (MA). After that I moved to Berlin.
Have you shown any work at The Ballery before? 
No, I have not.
What made you apply for this call?
I have visited The Ballery a couple of times and have been following the gallery online. So when the opportunity came, I knew I wanted to be part of that.
Why did you choose to submit the work that you did?
It is one of my freshest and favourite works.
Can you tell us a bit about this work?
The initial idea for the project was born in early 2018, during the preparation of the solo exhibition "Crossroads". The name "The Crossroads" came from old stories, especially fairy tales, from a familiar motif of a standing hero at a crossroads who was given the choice of going back or forth, stepping left or right. Physical and moral advancement depends on choice, but hesitations, including prejudices and superstition between left and right, are wide.
Based on these ideas, the project continued in 2019 under the name "Konvertierung II". This time the paintings focused on the inner world of the human being, exploring the human soul and highlighting the inner struggle as real and intimate as possible.
Has it been shown before?
Yes, this work has been shown before in my solo exhibition.
What are your biggest influences?
History, circle of life, There are a number of existential questions in life that we ask: where do we come from? Who are we? Why are we? What is the meaning of life? What will happen after death? Etc.
In which ways has living in Berlin shaped your work or practice?
It has been interesting to live in one of the  most creative cities in the world. It is motivating.
What other artists do you like, are there any other Berlin-based artists you are interested in?
The list goes long. My favourite artists come from medieval art to Anselm Kiefer and Neo Rauch.
Have you ever been in a group show before?
Yes, many times.
What's the experience like for you?
Every exhibition has been different. Usually it has been an  interesting and good experience to get to know other artists and the way they work and think.
How do you feel about exhibiting work online instead of in a space?
I don't have many experiences with online exhibiting. 
What is your approach to pricing your work? 
It depends on the time, place and circumstances.
What are you looking for from an exhibition, besides selling work?
I am excited to meet other artists and have stimulating conversations.
Do you ever get nervous about showing work in an exhibition?
Every time!  
https://www.instagram.com/stratskas/