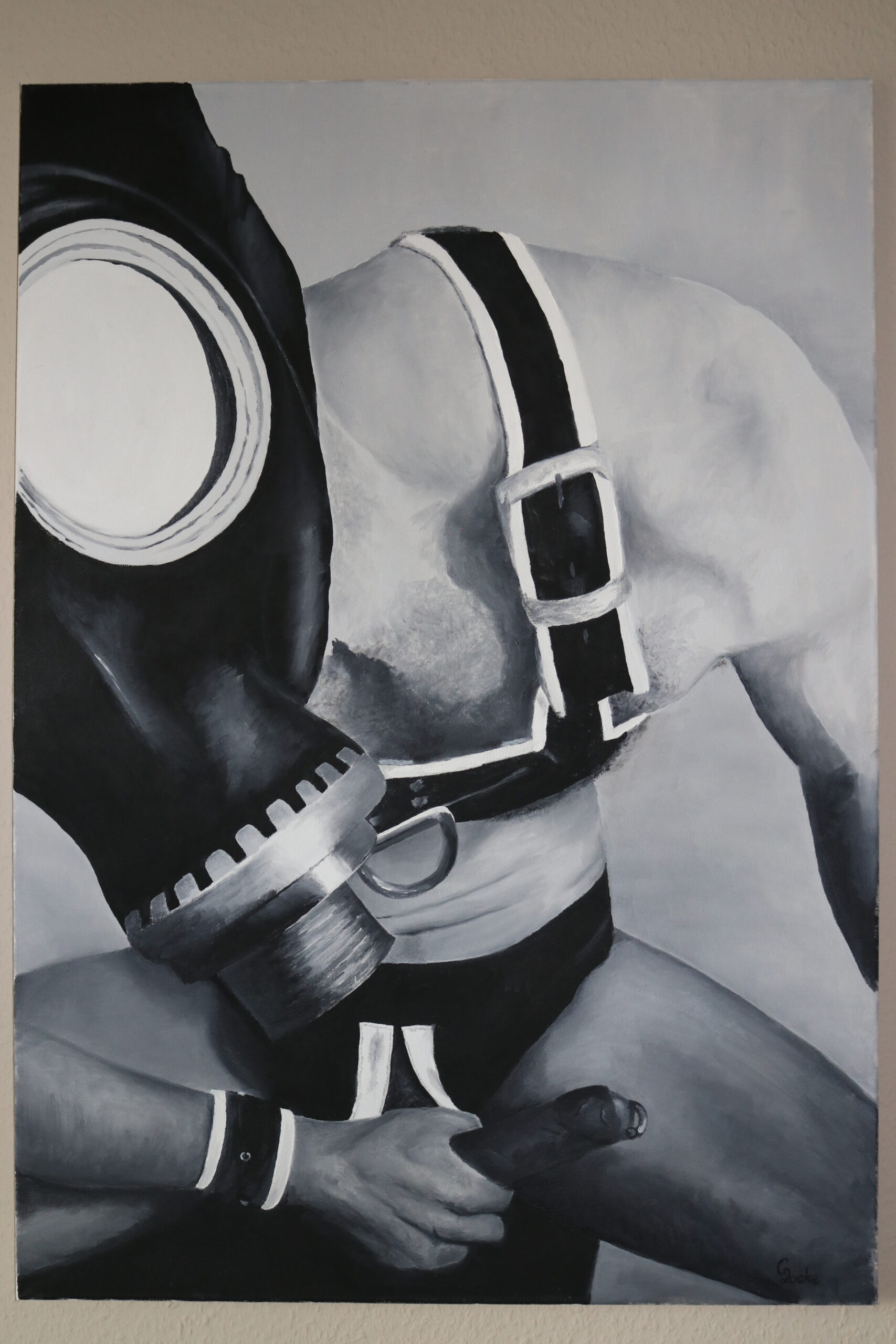 Artist Interview: Christian Gruber
The exhibition opens to the public today after our artist reception last night! Today I am sharing my last two interviews with artists in this show.
This interview is with Christian Gruber!
What is your background? Perhaps you could briefly introduce yourself and your practice?
I live in Berlin since 2013. Since I was a teenager I've been interested in biology, nature and in particular the anatomy of the human body. I predominantly paint with oil on canvas, mostly in black and white to emphasise the body.
Can you tell us a bit about this work?
There are so many different fetishes. With this piece I want to depict a cross-section of fetishes that have shaped me. I also wanted to show that in Berlin's gay hook up culture men often seems more interested in the fetish and less in the person behind it.
What does 'fetish' mean to you?
Fetish for me is the passion for something intimate. It's special – something unusual.
What made you apply for this call in particular?
On the one hand I fully identify with fetishism, and on the other hand, I want to show others my enthusiasm for it.
Do you feel the discussion around fetishes is a balanced one, or do you think it often comes from one particular perspective?
I think most people don't talk enough about their fetishes. The public should be more openminded around that topic, since it's a form of personal expression.
Do you think Berlin has a unique connection to fetishism, if so why?
Absolutely! That fetish scene is unique and many people just visit for that reason. The people in Berlin are simply much more uninhibited than in other cities, it seems.
How do you feel about exhibiting work online instead of in a space?
Offering art online makes it possible to reach a wider audience, but I think it's still a different experience to contemplate an artwork in a gallery space.
What are you looking for from an exhibition, besides selling work?
I anticipate the exhibition will introduce me to other artists who are interested in fetish and their work.
Do you ever get nervous about showing work in an exhibition?
I am always excited about showing my latest work to new people.
Have you ever shown at The Ballery before?
It's my first exhibition at The Ballery. Who knows, maybe it won't be the last one.